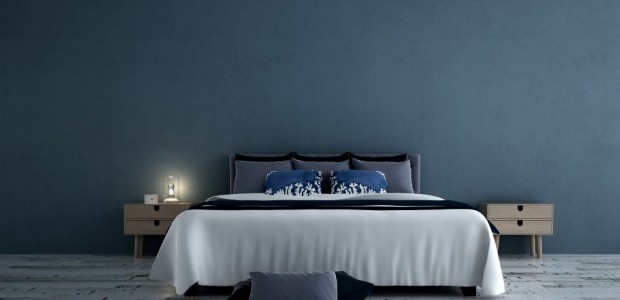 A bedroom needs to have a peaceful atmosphere and be comfortable to spend time in. If you want to create this feeling, there are several elements to consider, such as the colours in the room. Colours should be chosen carefully based on your personal tastes in order to feel at home. After all, if there is one part of the house that should reflect you, it is your bedroom!
To help you create the ideal environment, we provide some tips for choosing the right colours for your bedroom walls.
Study the bedroom before choosing the colours
A number of factors should be taken into account before you start decorating the walls of your room so that you make the right choice of colours. We recommend paying attention to the surface area of the room, as well as its brightness. For example, we prefer bright shades that will provide more light and create a sense of grandeur for a small, poorly lit room.
If you want to give your room a fresh look without necessarily changing the furniture, it is also important to take into account the colours of the furniture. For a harmonious and comfortable atmosphere, the colours of your walls should perfectly complement your current furniture.
Choose colours based on emotions
It is common knowledge that colours influence mood as well as emotions. When selecting colours, you should therefore take this information into consideration if you want an atmosphere that reflects your personality.
Soft, cold and neutral colours for a quiet room
Cold or neutral colours tend to calm the mind, generally offering a feeling of peace and quiet, which is ideal for a bedroom. Pastel colours are also a great way to add colour to the room while maintaining a peaceful and relaxing atmosphere.
Higher contrast colours for a comfortable room
Warm and more intense colours, such as shades of yellow or red, are generally chosen to bring a livelier and more dynamic atmosphere to the room. Consider using them in a room for a more intimate and inviting atmosphere, creating the cozy cocoon of your dreams.
Play with colours to create moods
You can use more than one colour to decorate the walls of your room. Based your personal preferences and the atmosphere you want to create, you can choose a colour for one wall, or a part of it, and another for the remaining walls.
You can also opt for a more imaginative decoration by installing a pre-pasted wallpaper mural on a wall and painting the others in a plain colour. A wallpaper mural can bring a personal and unique touch to your room that you can update without limits thanks to its easy installation and removal.
Remember the rules of decoration
In decoration, there are several rules that you should follow if you want balanced results. They might even help you make your choice of colours to decorate the walls of your bedroom.
The three-colour rule
A good visual balance is usually achieved by using three colours. Interior decoration is no exception to this rule. The main colour will occupy the majority of the walls and set the tone for the bedroom. The complementary colour will be found on important parts of the room, such as furniture, doors and even the ceiling. The third and final colour, the one that accentuates, is generally brighter and is found in all the decorative elements of the room such as an armchair, frames, pillow, etc.
The 60-30-10 rule
Respecting colour ratios is essential in decoration, whether for a bedroom or any other room in the house. Indeed, a good colour balance will create a nice atmosphere and avoid a monotone effect or, on the other hand, visual saturation of the room.
It is therefore recommended to comply with the 60-30-10 rule. This rule advocates decorating the room at 60% with the main colour, 30% with the complementary colour and 10% with the accent colour.
Decorate your room with the help of MuralUnique!
The bedroom is an important part of the home. It deserves special attention, especially when choosing the colours that will adorn its walls. The atmosphere can change completely depending on the tones and shades. So be sure to strike the perfect balance to fully enjoy your bedroom.
If you wish to decorate your room in a unique way, MuralUnique offers you a wide range of custom murals that can enhance your room. You are welcome to visit our online shop or contact our team for more details on our products.