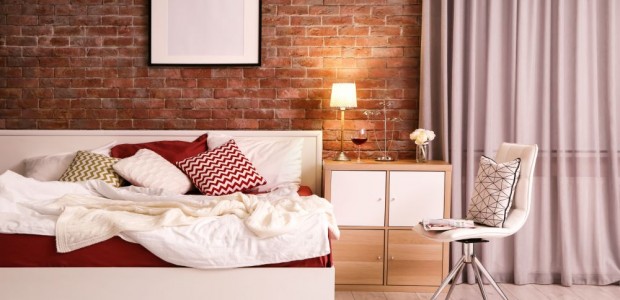 These days, authenticity is increasingly valued in interior design. It creates a personal and warm environment where you can feel comfortable. And what could be more authentic than a brick wall? Sometimes industrial, sometimes out of a country house, it can easily be tailored to all types of interiors.
Discover why a decorative brick wall is a must-have interior design element in 2019.
A brick wall for a timeless industrial look
The industrial style is very trendy in 2019 and can be found everywhere, in apartments, cafés, coworking spaces, etc. One of the main elements of this design is undoubtedly the brick wall, which recalls a New York loft and adds character to the room. If it is bright or large enough, you may consider decorating the entire wall with brick. This will provide a true authenticity to your room. On the other hand, if you want more restraint, you can decorate a single wall with decorative bricks.
However, installing a brick wall can be complicated and expensive. If you don't want to engage in heavy and expensive work, you could opt for a pre-pasted wallpaper mural that will be both affordable and easy to install.
A rustic feeling thanks to a brick wall
Brick walls can also evoke the feeling of a country house. Whether white or red in colour, they will perfectly match a floral and rural design that has become trendy again in recent years. You can create a rustic-looking room with a decorative brick wall and the right decorative elements. This rustic atmosphere can be implemented in all the rooms of the house, especially in the living room and kitchen.
Decorative brick to enhance your room and furniture
You can also use a brick wall as a partial decorative element in your room. There is no need to adorn an entire wall with decorative bricks. They can be used to enhance the room by highlighting some of its features, such as a fireplace. Installing decorative bricks around a fireplace will give texture to the wall and make your design more authentic.
A mural installation can make your job much easier if the area where you want to place the bricks is narrow and difficult to access.
Install a brick wall for a trendy decoration
Brick has had a presence in our homes for thousands of years, and it's not about to change! Decorative brick, which brings authenticity and character to the rooms it occupies, remains an essential decorative element in 2019.
For a successful decorative brick wall, you can opt for a pre-pasted wallpaper mural. In addition to being less expensive than brick siding, it is simple to install and can be easily replaced. At Muraleunique, we have many realistic mural models to create your brick wall. If you would like more information about our murals and their installation, contact us today! We will be happy to answer all your questions.