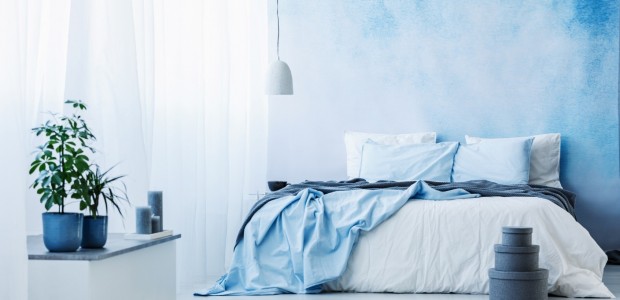 A bedroom redesign is a fun project that most are eager to take on. Wallpaper is the perfect option for your bedroom redesign and it's no longer resigned to boring colors and only for walls, its options and uses are endless. A healthy dose of the right wallpaper in your bedroom can make your room look like a dream. Whatever mood or style you want to create; wallpaper is a fantastic choice. It's versatile, easy to install and its durability can't be matched.
Wallpaper Lasts a Long Time

Unlike regular old wall paint, wallpaper lasts a really long time. It's one of the top reasons that it's perfect for your bedroom redesign. No one wants to continuously repaint and redo scratches, marks, and chipping. By using wallpaper, you save yourself the headache and enjoy its beauty for years to come without needing frequent touch ups.

Bedrooms typically don't retain moisture like a bathroom or a kitchen, so it's a great fit for use in the bedroom. If you do tend to have moisture in your bedroom you can run a ceiling or window fan to combat any negative effects. Summertime can be particularly humid, so using a fan or turning on your A/C will be especially helpful. Of course, it's shouldn't be a big concern in most cases. To err on the side of caution make extra sure that if you use peel and stick wallpaper (yes, it's a thing), look for labels of water resistance so the paper is impermeable to any sort of moisture.

Color options to Infinity and Beyond

The endless options for wallpaper these days can quickly become overwhelming so it's important to narrow your choices. Decide what your goal look is for your bedroom and work your way forward from there. The choices are almost unbelievable and once you start exploring you'll see that wallpaper has come a really long way. Gone are the days of traditional flat wallpapers with limited color options. The sky is the limit!

You can choose any color, whether it be a favorite color or something that sets up the right atmosphere for your bedroom. If you're looking to create a simplistic vibe, go with neutral wallpaper colors like black, white, gray, and other muted or light colors. For a "beachy" feel, use light blue and turquoise colors. You can even include sand accented wallpaper. Use bright colors like orange and pink, and any other floral colors to make your space fun and relaxed. With the color choices available, you can feel like you're on a tropical vacation in your own bedroom.

For a more classic or luxurious look, choose colors that exude maturity, wealth, and class. Colors such as browns, crèmes, deep hues, royal blue, and olive greens will make your bedroom seem like it's sitting on an estate. Just be cautious not to overdo it with too many dark shades.

Textures and Patterns Galore

Who knew we'd see the day when you can plaster your bedroom with an entire wall of trees, ocean waves, flowers, shrubs, you name it… all made out of wallpaper! The textures and scenic looks that you can pick from are limitless. You can virtually look up any scene you want on your bedroom walls and you will probably find it. This is especially useful in baby, children, and teenage bedrooms. Not only can your wallpaper have a scenic look, but a texture to make it seem even more real. There are wallpapers with slight bumps and lines that create depth on any wall.

Another great choice for faking a textured or desired look is to buy wallpaper that mimics different materials. You can look for wallpapers that are copycats of traditional wood, stained wood, shiplap, and more. Also becoming increasingly popular are wallpaper sheets that look like different stones and concrete for a more industrial or outdoorsy look.

Patterned wallpaper is the perfect way to add depth and dimension to your bedroom The pattern choices are also endless. You can choose from classic lines and shapes, polka dots, flower patterns, patterned birds, splotches…again you name it and you can potentially claim it.

Wallpaper to Create a Mood

Whatever mood or ambience you want to create in your bedroom redesign, wallpaper can make that transformation possible. If you want to create a bedroom of elegance, use wallpaper that is formal in its look. You could choose wallpaper that has simple lines and structured patterns. Don't choose anything too crazy or you'll lose that classy touch.

For a bedroom that's made for fun and entertainment, choose wallpaper that is scenic, has texture, and outlandish patterns. Bright pinks, neon colors and patterns, in modest use of course, can make you feel energetic and happy to spend time in your bedroom. If you don't fancy a girly look, choose colors that are bright but leave out the floral shades.

If you're looking to redesign your bedroom to make you feel like you're motivated, serious, and studious, choose wallpaper colors and patterns that imitate a library feel. Consider dark and light colors combined with an accent wall of wood or patterned wallpaper. Having this contrast will help when you need a distraction.

Whatever atmosphere you desire for your bedroom, do a bit of exploring and find the wallpaper choices that will reflect that mood. Use toned down colors/textures, and patterns for class and simplicity. To amp up your bedroom and make it dazzle, add in metallics, fun patterns, bright colors, or scenic wallpapers.

Wallpaper Accents Aren't Just for Walls

Accents in any bedroom create a pop and makes a space unique and interesting. Wallpaper can certainly be used on a desired accent wall but it can be used on other surfaces besides walls. You can wallpaper, especially with the peel and stick variety, almost anything you can imagine. You can wallpaper a bulletin board, headboard, side and tops of dressers and bookshelves, and much more. The peel and stick vinyl variety work best for this. These small accents with wallpaper will make your room come alive.

The Perfect Option

There's no denying wallpaper is the go-to perfect option for a bedroom redesign. It's armed with variety, versatility, and overall great performance. Don't hesitate any longer in the paint versus wallpaper debate. One word of caution…don't lose track of the time you'll be sure to spend browsing all of your wallpaper choices! It's fun, exciting, and you'll be surprised at some of the looks you can find.
Credit: House Tipser.com