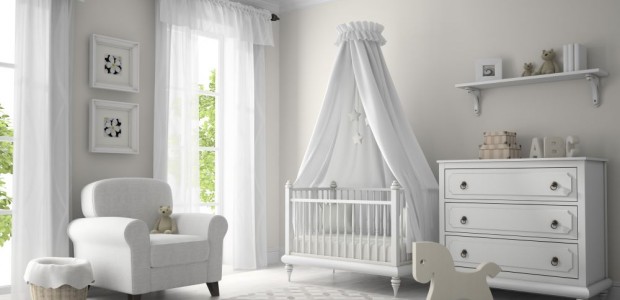 Need a little help decorating your baby's nursery room? Discover some decoration secrets to create a well-balanced room that is pleasant to be in.Creating an atmosphere in a baby's nursery room that supports their development and well-being involves many aspects, including decoration. However, not everyone has the soul of an interior designer and creating a sense of harmony in this room can be a major headache.
To help you flawlessly decorate a room that will contribute to you and your child's well-being, we reveal the main aspects to consider when creatively decorating your baby's nursery room.
Choose a theme to decorate your baby's nursery room
When you start a decoration project, one of the first things to do is to establish a theme. Whether you are decorating a baby's nursery room or any other room in the house, deciding on a decorative theme is essential. The theme will guide you through your project and help you make choices about key decorative elements including colours, fabrics and furniture materials.
If you want to find the perfect theme to decorate your baby's room, first consider your personal tastes. You can then find plenty of ideas in decoration and furniture stores, on home decor websites and on social networks.
Bring your baby's room to life with wall decorations
While it is not always on our minds, walls have an essential role to play in creating a room's atmosphere. Therefore, if you want to create a space that is pleasant for your baby, you can add colour to the walls. In most cases, light and pastel shades are preferred for a baby's room, but this choice will depend on everyone's individual tastes.
For an unique decoration, you can also consider decorating an entire wall section of the room with a pre-pasted wallpaper mural. Not only will it brighten up your room and bring it to life, this easy-to-install decoration can be replaced by a new one when your child grows up.
Choose functional and well-balanced furniture
Decorating a baby's room also involves arranging the furniture in it. The furniture should be functional for parents and safe for the baby to prevent injuries. Don't forget to match your furniture to the theme of the room to maintain a certain balance in the room.
You might consider adding a comfortable chair to provide you with special peaceful moments with your baby. Apart from being very useful, it can also serve as a beautiful decorative element in the room.
Add unique decorative elements
To complete the decoration of a baby's nursery room, you should include decorative elements such as mirrors, paintings, photo frames, plush toys or storage boxes. These are usually collected by parents throughout the pregnancy. These decorations will make your nursery unique, creating a happy atmosphere that is perfect for the arrival of your newborn baby.
Another essential nursery decoration is the baby mobile. Placed above the child's crib, this toy helps stimulate and entertain the child. If you want it to match perfectly with the rest of the room and be completely customized, you might consider making one yourself.
Leave room for creativity when decorating the baby's nursery room
Whether or not you have artistic flair, you are now familiar with the key elements to consider when creatively decorating your baby's nursery room. Let your creativity and emotions shine through as you prepare for the arrival of your child. The room will be even more beautiful! As the years go by, the room's decoration will certainly evolve to reflect your child's personality, since it will become their private space where they can escape, blossom and grow.
If you are looking for decoration advice and professional guidance on choosing a unique mural, please contact our experts. We will help you choose the right pre-pasted mural for you from a very wide range of designs.