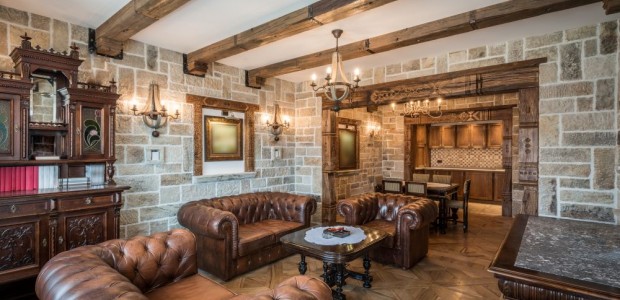 There is something very attractive about rustic design. And while it would be tempting to rely solely on a new selection of furniture to recreate this decor at home, there is another way to adopt this style, which vaguely resembles a farmhouse: your walls.If you want to enhance the look of your home with this design without necessarily having to buy new furniture, here are some wall decoration ideas that are perfect for creating a rustic living room.
Barn wood planks: an essential rustic wall decoration
If you want to create a rustic look in your living room without committing to expensive renovations, one option is to design a wall made of barn wood planks. This decorative element gives a room a distinctive character and enhances it with ease.
Moreover, you will be delighted to learn that barn wood plank walls are quite simple to build. Clean and prepare the surface. Then, measure and draw the plan, install the boards and, finally, admire the beautiful finished work you have accomplished. However, to make it even simpler, you can buy a decorative mural that features rustic boards. Immediately delivered, immediately installed!
Brick walls to the rescue of your rustic design
In recent years, the style of old warehouses, barns and industrial buildings has taken over the world of design. Whether it's exposed rustic finishes, structural elements or industrially inspired lighting, there's no doubt that these elements are here to stay. If these urban lofts and converted barns have caught your attention in the latest design magazine or on TV, you've probably been equally charmed by brick walls.
Both retro and industrial, brick walls are another way to capture the rustic look. If you want to recreate this design at home without hiring a mason to do the work, you can use faux brick panels sold in stores. These panels surprisingly imitate a brick wall. But once again, there is a much simpler way to do this with wallpaper.
Adopt the rustic look in a different way
Aside from murals depicting a brick or wood plank wall, you can decorate your living room with a host of other elements to give it the desired rustic effect. For example, you can always get old wooden frames of various sizes and place them on your walls. The use of the sepia color, as opposed to regular colors, will allow you to give a rustic effect to the images you choose.
Similarly, typography lends itself quite well to a rustic wall decoration. Hanging oversized wooden letters on walls has the ability to create a friendly and welcoming atmosphere to any space. For a better effect, favor the use of letters showing some slight imperfections.
A rustically inspired living room with wall decorations
In recent years, the rustic look continues to grow in popularity. Now that you know how to make it yours at a low cost, you are free to customize your decor according to your personal tastes and preferences. After all, the important thing is to feel well at home.

For more information, do not hesitate to visit our blog or contact us.