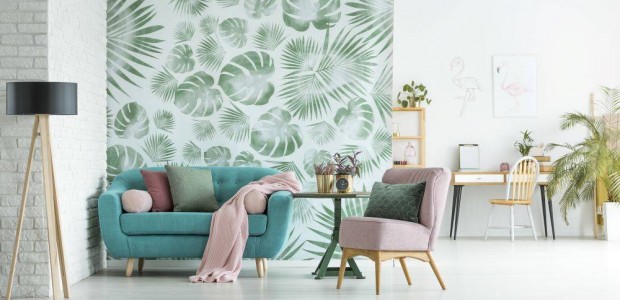 Trends come and go. And 2019 is no exception. If you are looking for inspiration, we have scoured the Web and home decor magazines to find the best wall decoration trends to give your home a new lease on life. In the following paragraphs, you'll find some of our selections. Get those notepads ready!
Line art is back in style and fits perfectly with wall decoration
Inspired by sketches from artists such as Picasso and Matisse, line art is back in full swing in 2019. It is also perfect for creating a minimalist atmosphere. The black lines depicted on a white or cream background easily create a striking visual impact. Murals with line art are perfect for living spaces, lounges and dining rooms.
Abstract art and geometry for your walls
Abstract forms and geometry are quite popular this year. Decorative murals with geometric patterns can breathe new life into a space by adding a dynamic aspect that would be difficult to recreate otherwise. The most striking murals use two-dimensional shapes to give the illusion of 3D. They look stunning on accent walls, dining areas and hallways.
Black and white photography to give a room a new look
Sometimes, the fewer colors, the better. In this regard, black and white photography is ideal for creating highly evocative monochromatic looks. The contrast between the tones is eye-catching. This type of trendy wall decoration has the potential to enhance the look of any room in the house. Professionals in photography, cinema and fashion all love it.
The Scandinavian style, timeless and eternal
How could we talk about 2019 trends without mentioning the Scandinavian style? This year, it is still in vogue. This time around, however, it is updated and makes greater use of patterns and textures. Scandinavian-inspired wall decorations are perfect for creating an elegant décor effortlessly.
The wonders of the world travel to your home
The #MeToo movement isn't the only thing shaking the world in 2019. The environment and the eco-market are also in high demand at the moment. To make them your own and infuse them into your home, there is nothing better than murals that represent the wonders of the world to make subtle statements while enhancing the atmosphere of a room.
Easily capitalize on wall decoration trends
Decorative murals are the perfect way to enhance the look of a room with ease. While some trends are more prevalent than others, the most important thing is always to choose a wall decoration that suits you.
If you are interested in professional advice on buying a decorative mural, we will be more than happy to help you. All you have to do is contact us and one of our designers will help you.