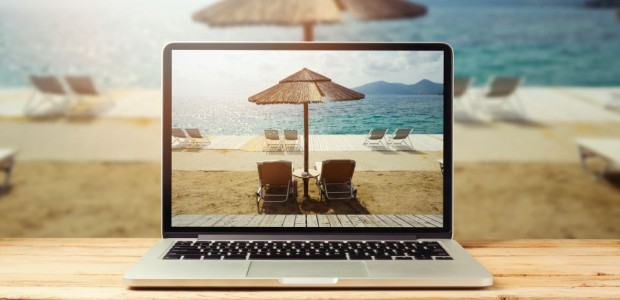 Whether it's a natural or urban landscape, a starry sky or a sunrise, a custom wallpaper mural can add a great deal of personality to the wall of your choice. It's easy to turn any photo into wallpaper but making sure the result is timeless is more difficult. Here are some tips that should help you make a smart choice and avoid unpleasant surprises.
Choose the photo for your wallpaper mural carefully
The choice of photo to be turned into a wallpaper mural is undoubtedly the most important step in the process. Make sure you are comfortable with the idea of living with your wall for several years: avoid pictures of your friends or significant other, since they might not be around forever.
Choose a photo that matches the layout and furniture in your room. Finally, make sure that you have a high-quality photo. If the image is a little blurry in the original format, it will be worse in the mural format. For a timeless and contemporary look, check out our selection of the best wall decoration trends.
Edit the original photo for a unique wallpaper
Before having your custom wallpaper made, you might want to make some aesthetic changes to your original photo. If it is a black and white photo, adding color to a specific element can bring a lot of life to the final result. You can also add a filter to give it a special look or borders, which allow you to outline the photo if you choose to cover only a part of your wall. All these changes can be made in a few clicks with image editing software.
Take note of the specific features of your wallpaper
Once you have chosen your photo, you can start the process of putting up your wallpaper mural. For a beautiful result, you need to take exact measurements of the wall surface to be covered. The slightest imperfection in dimensions can significantly affect the final result. Once you have made the final choice, find out what material your wallpaper is made of and how you should apply it. Some wallpapers are self-adhesive, while others require you to add glue. Finally, determine beforehand whether you can install the wallpaper yourself or whether you should use professional help. A poorly applied wallpaper mural is immediately noticeable to everyone and very damaging to the character of a room. If you already have your wallpaper and it is one of our products, we can help you install it.
Choose your supplier
Now that your decision is made, the time has come to choose who will turn your photo into wallpaper. You can visit your local copy and craft stores or order your product online. In both cases, check the reviews online and make sure you clearly communicate your needs to reduce the risk of unpleasant surprises. If you need additional help with your custom wallpaper mural project, please do not hesitate to contact us.