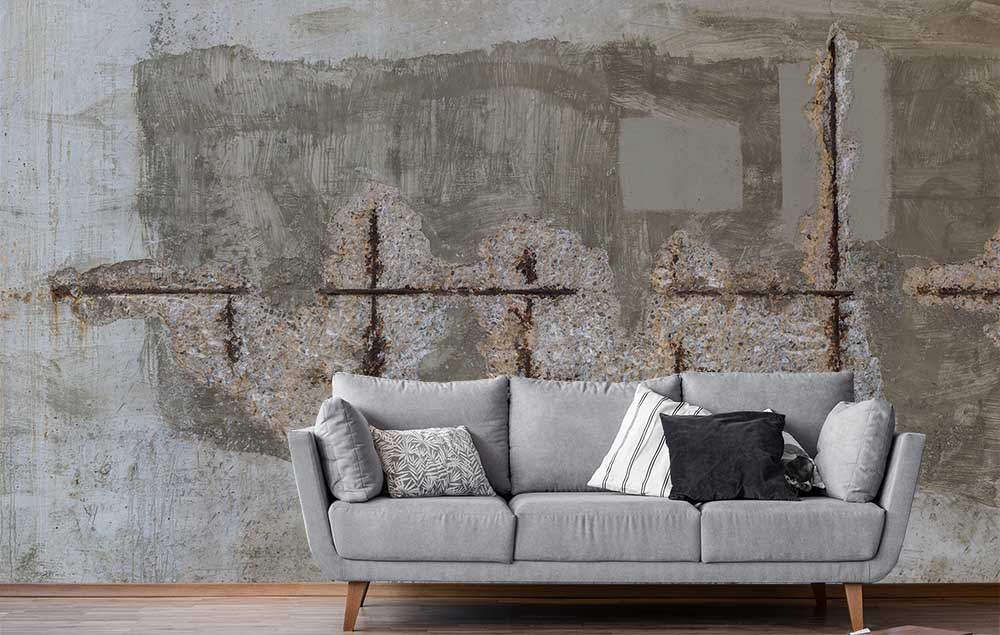 A living room is a central focus in a home, where we spend time with our family and entertaining friends. It is not always easy to find decorating ideas to complete this warm and welcoming space.
To help you find inspiration, Muralunique presents 8 trending wallpaper murals that will transform your living room in the blink of an eye.
1 – Enjoy the beauty and tranquility of nature
A large selection of natural scenes is offered as wall murals. A natural scene inspires calm and tranquility that you can enjoy in all seasons of the year.
There are murals of forests in sunshine, foggy views of mountains and trees and beautiful waterfalls. Discover our great selection of nature and scenic wallpaper murals for inspiration.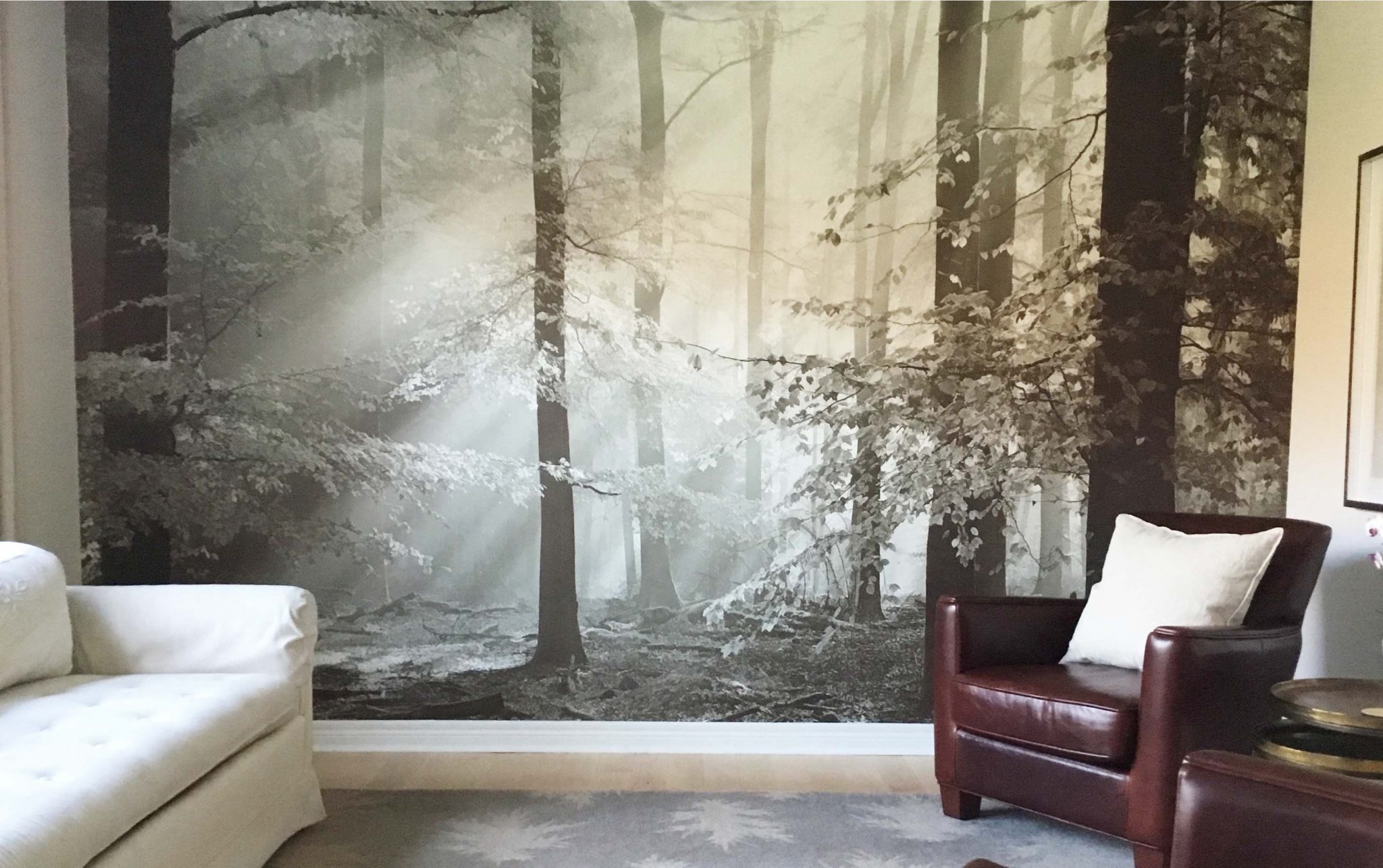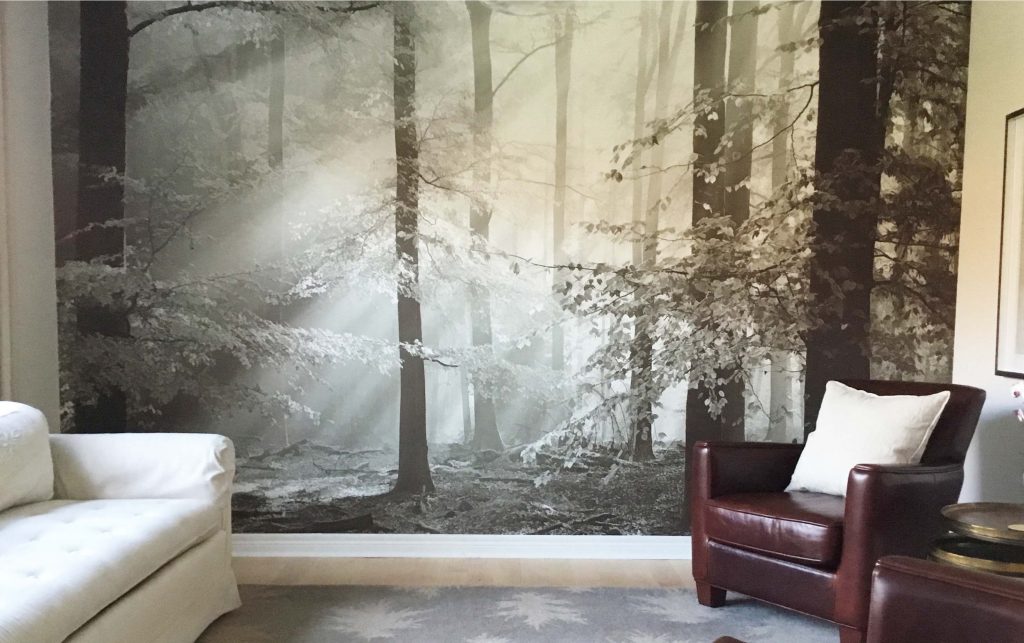 Pictured: Sinfonia Della Foresta wall mural in sepia – Photo credit: Anne Ireland
2 – Floral wall murals for an elegant decor
Images of flowers, especially in large scale, have been trending for several years now in the world of decor. You can choose from many different floral designs.
There are poppies, roses and peonies, to name a few. You also have the option of choosing the images in color, black and white or sepia. A wallpaper mural of flowers brings life and a touch of your personality to your living room. Discover our beautiful selection of floral wall murals.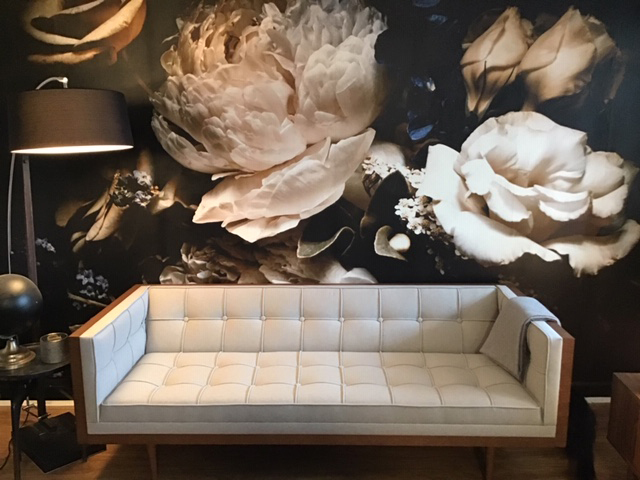 Pictured: Bouquet of Roses and Peonies wall mural – Photo credit: Paul and Dave Ferraro-Mathers
3 – All kinds of bricks
Wall murals of bricks in high resolution allow you create a wall that is so realistic that you will think it is the real thing! On top of that, you can choose the colors and style that suits your living room best.
There is an extensive selection of brick wall murals in multiple colors (white, red, black, brown) and some even have graffiti! You will certainly find a brick wallpaper mural that will harmonize with your decor.
Pictured: Peeling Paint Brick Wall mural – Photo credit: Pierre Couture
4 – A rustic and warm style with stones
Are you looking to add texture to your living room walls, but prefer an image that is more rustic and welcoming? We have a creative selection of natural stone wall murals in a variety of styles and colors that will transform your living space.
Pictured: Castle Stones wall mural – Photo credit: Line Labrecque
5 – A zen decor for your living room
Would you like to create a decor that reflects your spirituality and your inner calm? We have a great selection of zen murals including japanese gardens, mandalas and buddhas.
Discover our oriental and spiritual wallpaper murals to add a touch of Zen your living room.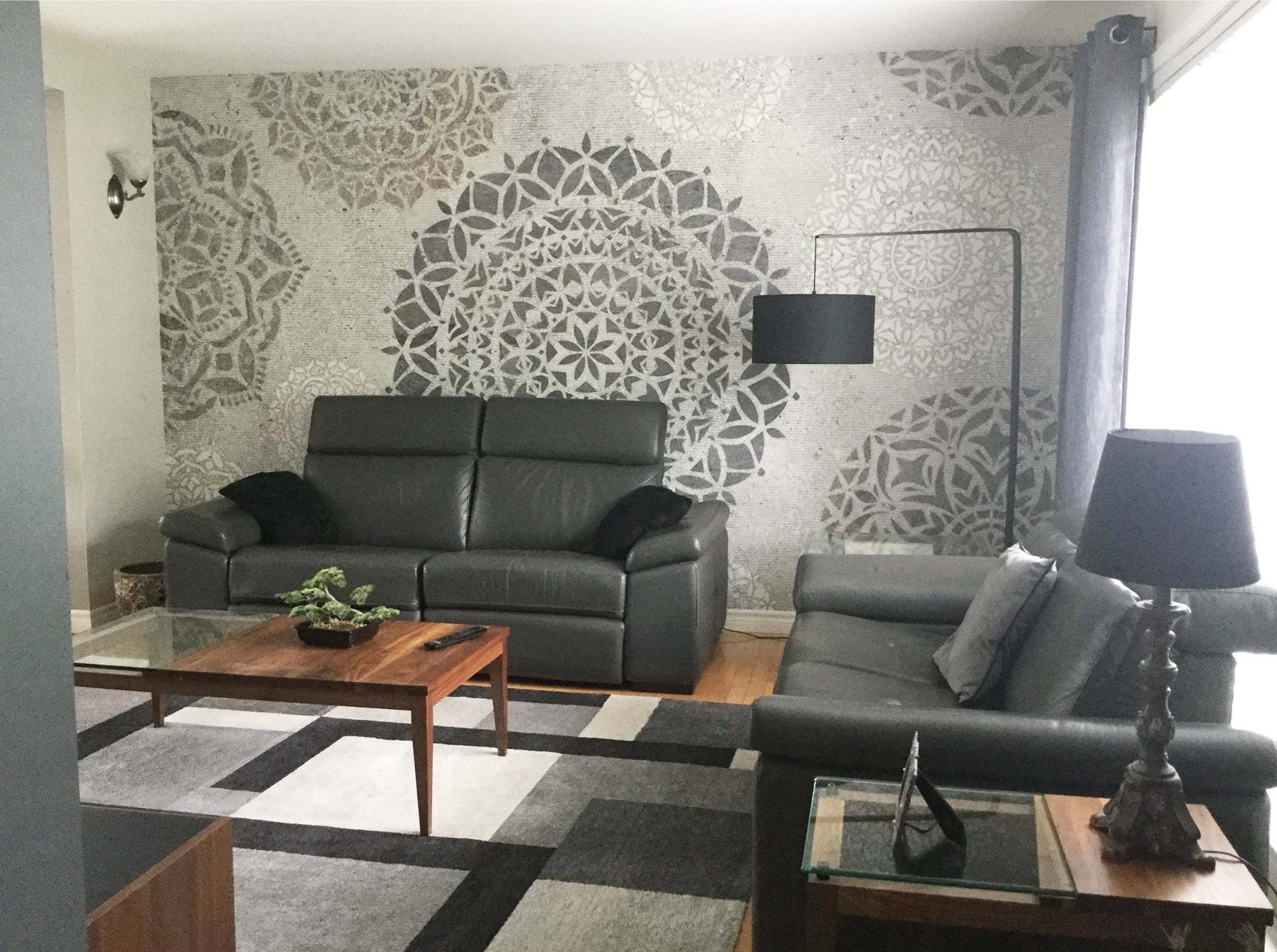 Pictured: Constellation of Mandalas wall mural – Photo credit: Anne-Marie Couture (AMC Design) and Mario Nadeau
6 – An urban scene for a modern living room decor
Do you prefer a more modern decor? An urban scene will transform your living space with an original and contemporary style.
Images of New York have always been popular, but we also have beautiful cityscapes of Montreal and Toronto. Discover our urban wallpaper murals for a modern living room.
Pictured: Brooklyn Bridge at Night wall mural – Photo credit: Roger Parent
7 – Concrete wall murals for an industrial look
Wallpaper murals of concrete textures have been trending for several years now. They create a modern and industrial style for your living room.
Many creative variations of the concrete texture are offered: cracked concrete, eroded concrete and concrete planks. Browse our textured wallpaper murals to discover a wide variety of concrete murals, brick murals, stone murals and other textures.
Pictured: Concrete Wall Art mural – Photo credit: Jovette Deschênes
8 – A graffiti wall with torn posters
For an original street art style, we have a creative selection of graffiti and walls with torn posters and signs. These wall murals will add a rebellious and urban flare to your living room space.
Pictured: Torned Posters Graffiti wall mural – Photo credit: Marc-André Trottier
A wide selection of living room wall murals from Muralunique
The inspiring wall mural designs listed above are just some of the many different options for living room murals offered by Muralunique. Don't hesitate to browse all of our wall mural categories or even design your own custom wall mural.
If you have any questions or are looking for a design in particular, you are welcome to contact us and our team will gladly answer you shortly.