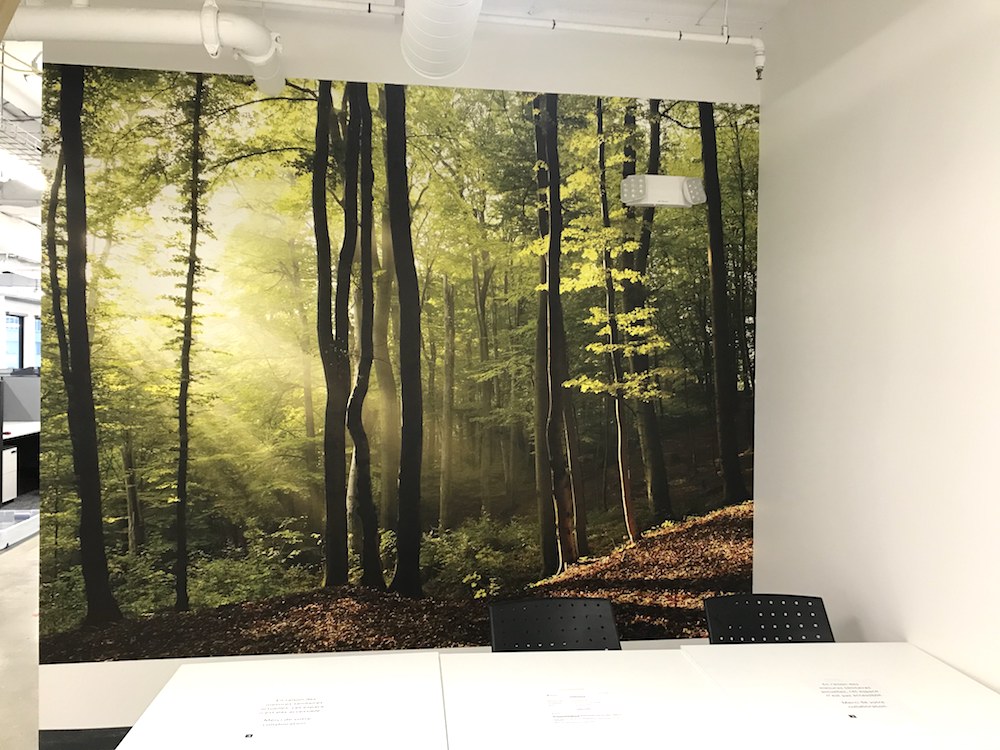 Are you a business owner looking for creative ways to motivate your employees and increase their productivity?
Why not incorporate office murals into your decor? Wallpaper murals can have many positive benefits in the workplace.
In this article, find out how murals can help you increase your employees' motivation!
An office mural helps strengthen your brand image
Your company's brand image is key to making you known and recognized in your field but is just as important for creating a sense of belonging within your company.
Promote your values to create a sense of pride
A custom wall mural that highlights your corporate values and vision reminds your team of the foundations of their work. Your employees develop a sense of belonging to the company, which helps develop greater cohesion within your team. An office mural can even inspire your workers to motivate each other.
Create a decorative mural that tells your story
Another idea would be to design a mural that illustrates the history of your company. This will give your employees a more tangible way to see how your company has grown and how their work contributes to the continued growth of your company.
Use different colors to define the function of each space in your office
Are you familiar with the concept of color psychology? The idea is that human beings associate each color with certain feelings or emotions. This makes it important to determine which colors would be appropriate to use when decorating a meeting room, staff room or open area.
Here are some examples of colors and their significance at a psychological level:
Yellow: the color of happiness and hope
For many people, yellow evokes positive emotions, such as happiness and hope. This color is warm and energizing. A mural with shades of yellow is a great way to help stimulate your employees' creativity and inspire them.
Green: the color of reason and harmony
Green is a soothing color that is associated with relaxation, reason and harmony. A mural of this color can help your employees feel less stressed and motivate them at work.
Blue: the color of clarity and discipline
Blue is a color that evokes calm, clarity and discipline. This color can help your employees concentrate when they have to accomplish a task that requires careful attention.
Wallpaper murals: much more than a simple decoration
In short, besides being a unique decorative element, wallpaper murals are very useful for motivating your employees in the workplace. The content of the mural as well as its colors can greatly help create a sense of pride and productivity within your team.
Visit our website to learn more about our commercial service for businesses, or simply to discover our vast selection of wall decor murals!