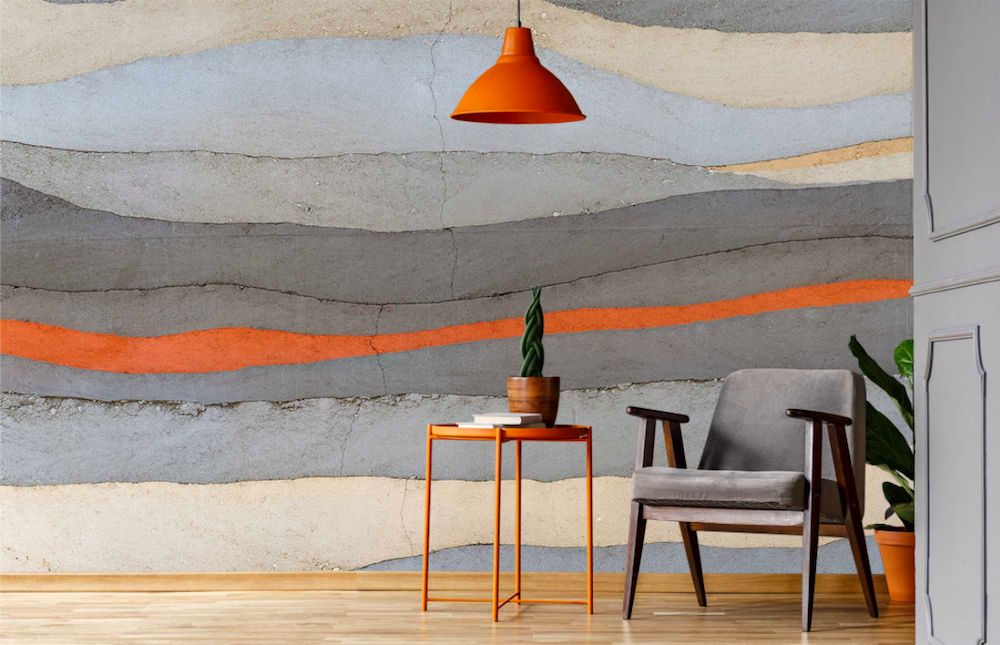 An accent wall is one wall in a room that has a different colour or design than the rest of the room. Its purpose is to add decorative flair to a room that would otherwise be plain and unassuming. It's the perfect way to add personality and creativity to your space without it being overwhelming.
A perfect blend of wallpaper and art, wallpaper murals are one of the simplest and most stunning ways to create accent walls in your home. Available in an incredible variety of patterns and styles, they come pre-pasted for easy installation and can be removed and reused at will.
Need a little inspiration? Here are a few accent wall mural ideas to get you started.
Textured walls
Have you ever dreamed of having a home with textured walls that evoke a particular aesthetic? Make that dream a reality with textured wallpaper murals.
Wood cabin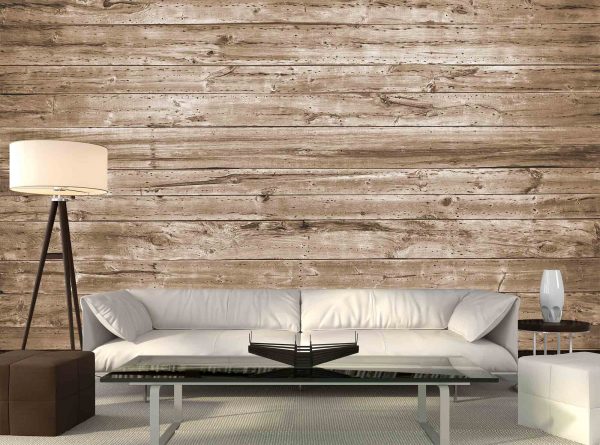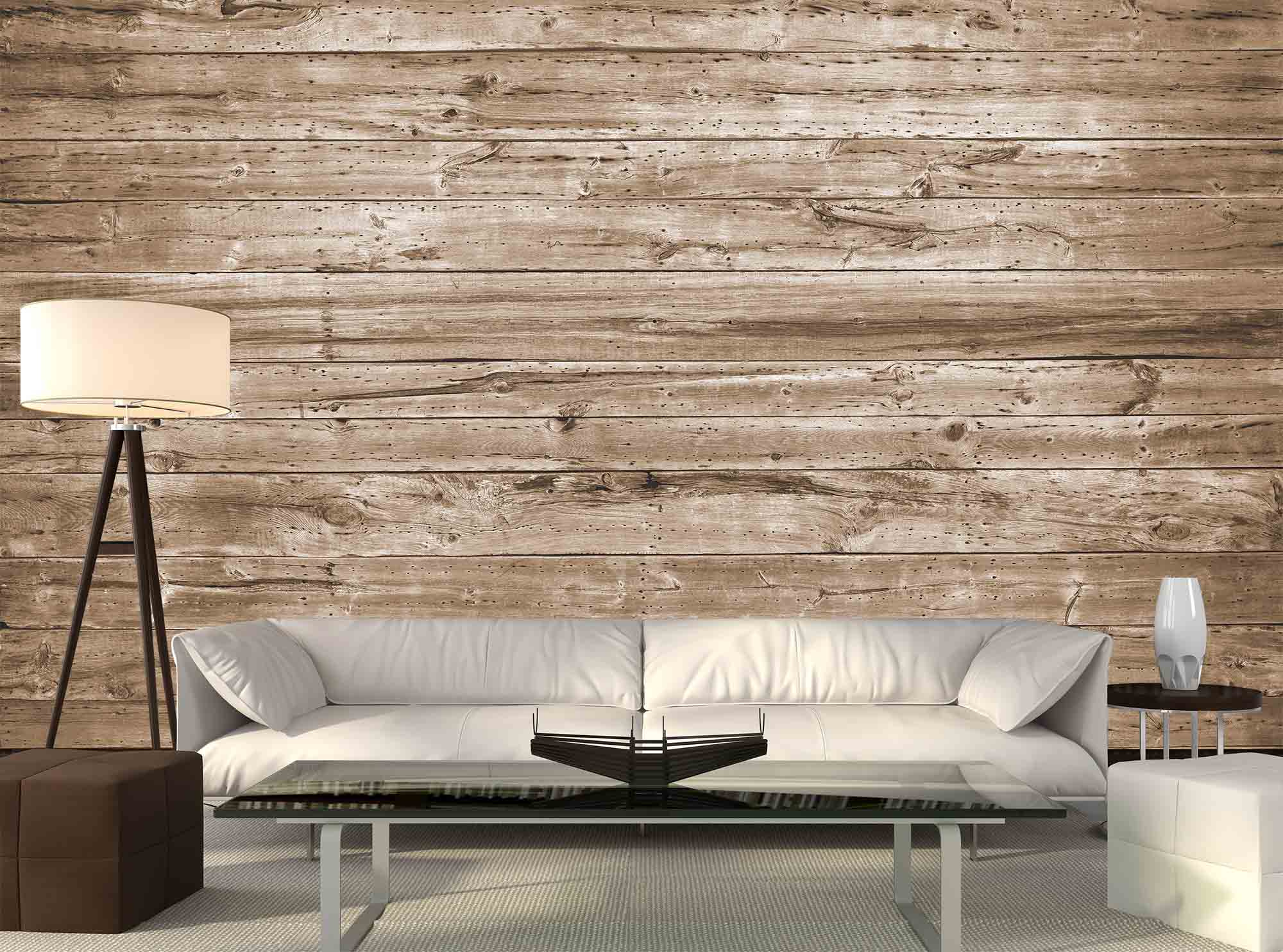 Pictured: Horizontal Old Barn Wood
No need to build your own log cabin in the woods! Create that cozy, rustic aesthetic with a wood panel wallpaper mural—the perfect atmosphere for curling up by the fireplace with a cup of hot cocoa and a good book.
Brick wall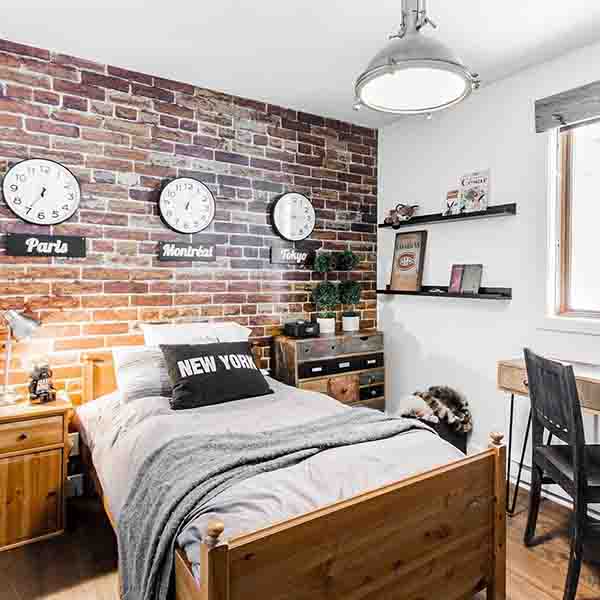 Pictured: Not Just Another Brick on the Wall
The industrial aesthetic has been popular since the late 2000s. Incorporating exposed brick and metal beams, this design style originated with historic commercial buildings and factories being converted into apartments, lofts, art galleries and event spaces. Add some chic industrial style to your living space without the mess of actual exposed brick by installing a brick accent wall mural.
Timeless wallpaper styles
If you prefer a more old-fashioned, elegant style, you might want to create an accent wall with design elements that mimic those often used in traditional wallpaper.
Damask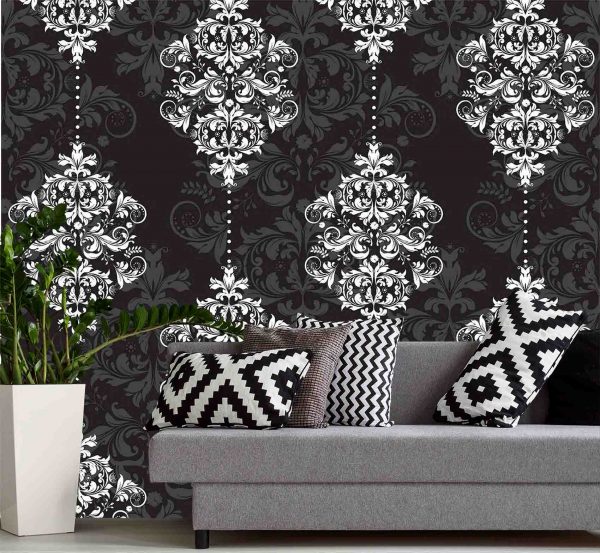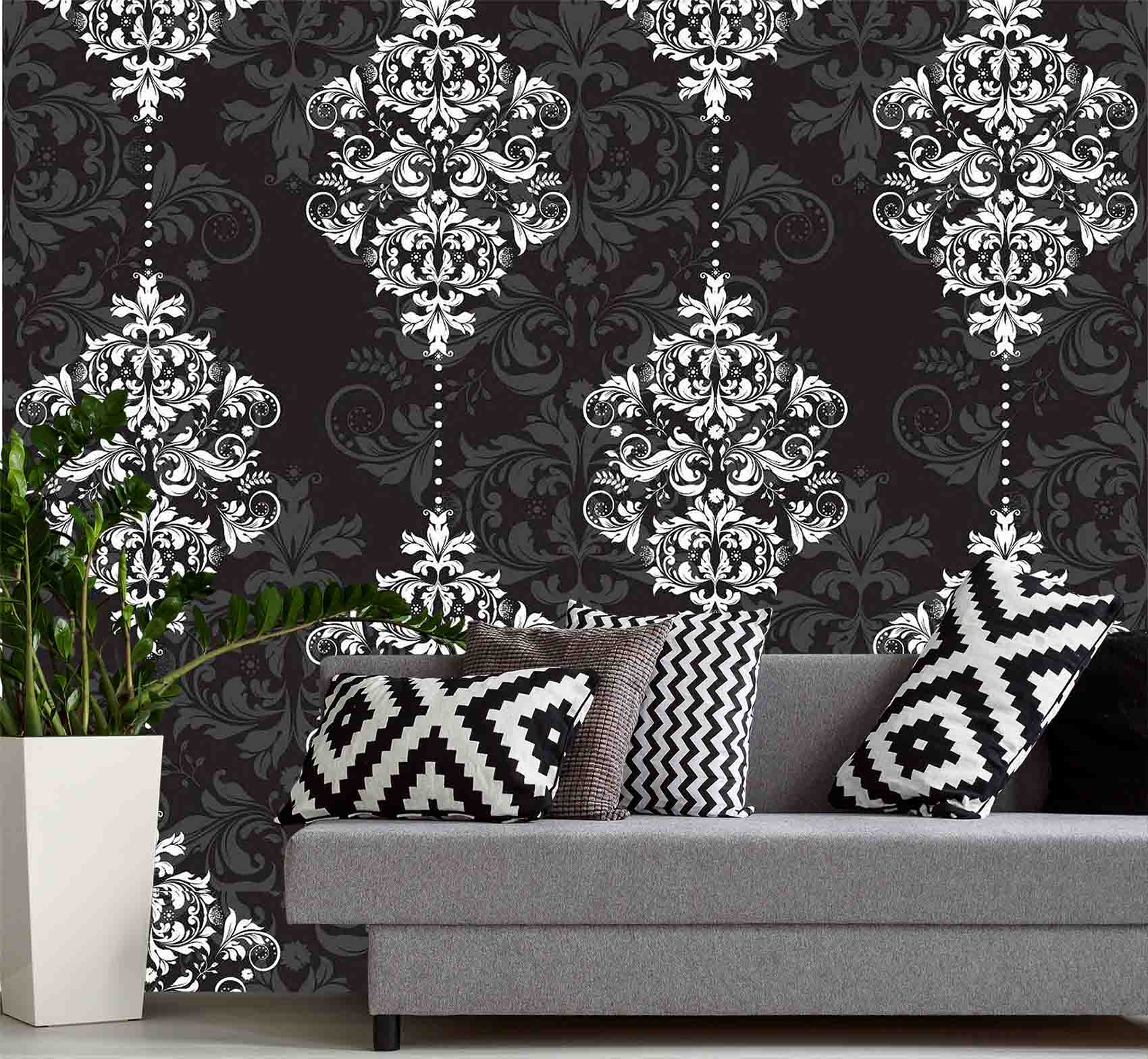 Pictured: Damask
Damask is a timeless design inspired by a type of woven cloth that dates back to medieval times. The complexity of the jacquard patterns made it a luxury fabric coveted by royal families and nobility. If you want your space to exude elegance and grandeur, opt for a damask accent wall mural.
Floral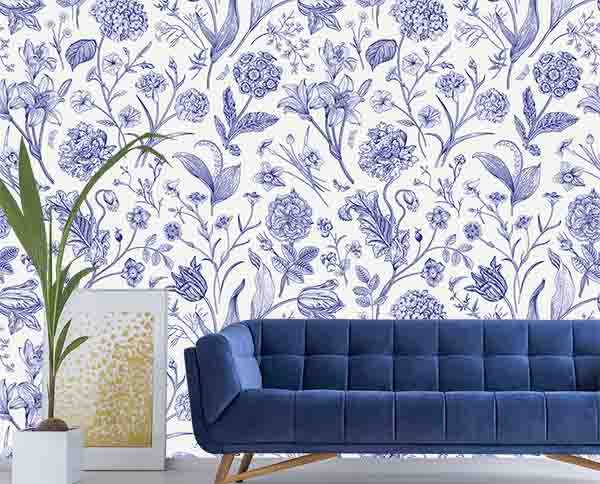 Pictured: Floral Pattern Toile de Jouy
Florals and foliage have been popular wallpaper patterns for centuries. Flowers have featured heavily in home décor all the way from the Rococo and Victorian eras to the modern cottagecore style. If you want to give your home a classic feel and a pop of colour, a floral accent wall may be just the ticket!
Accent wall mural options for kids
Accent wall murals are a great way to make a child's room colourful and fun. Children's wallpaper murals can help kids learn and fuel their imaginations.
Educational map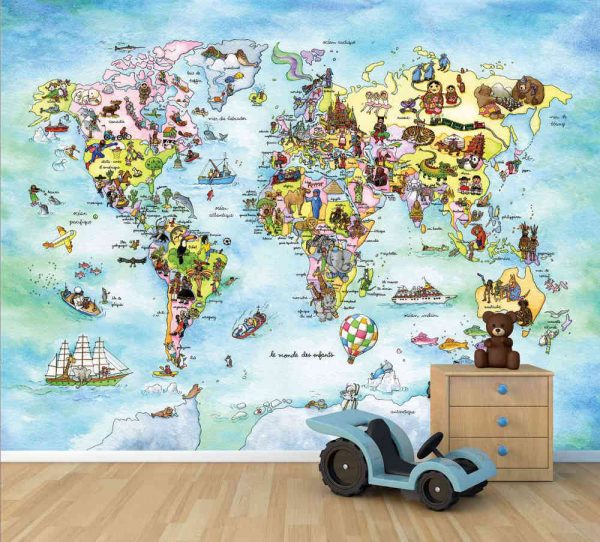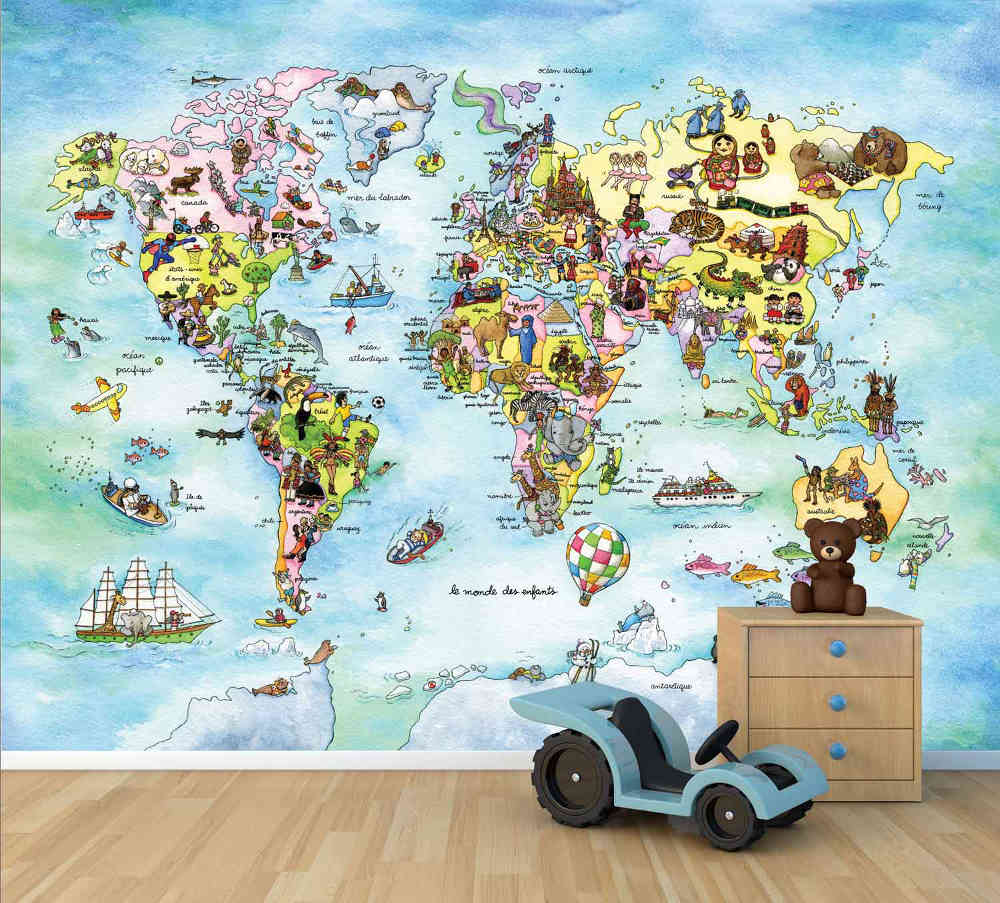 Pictured: Kids World
This educational map teaches kids about the world with illustrations depicting animals, activities and traditional garb common to each region. A great option for an inquisitive elementary schooler, it provides an opportunity to discuss different cultures and traditions.
Space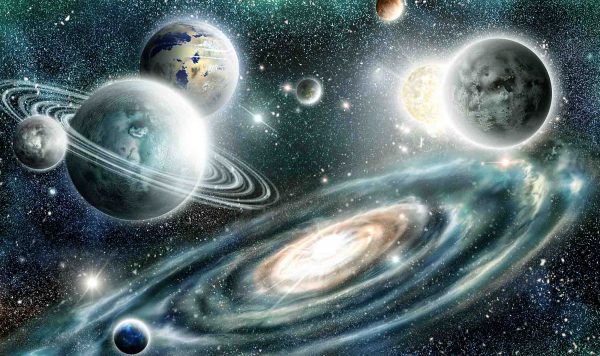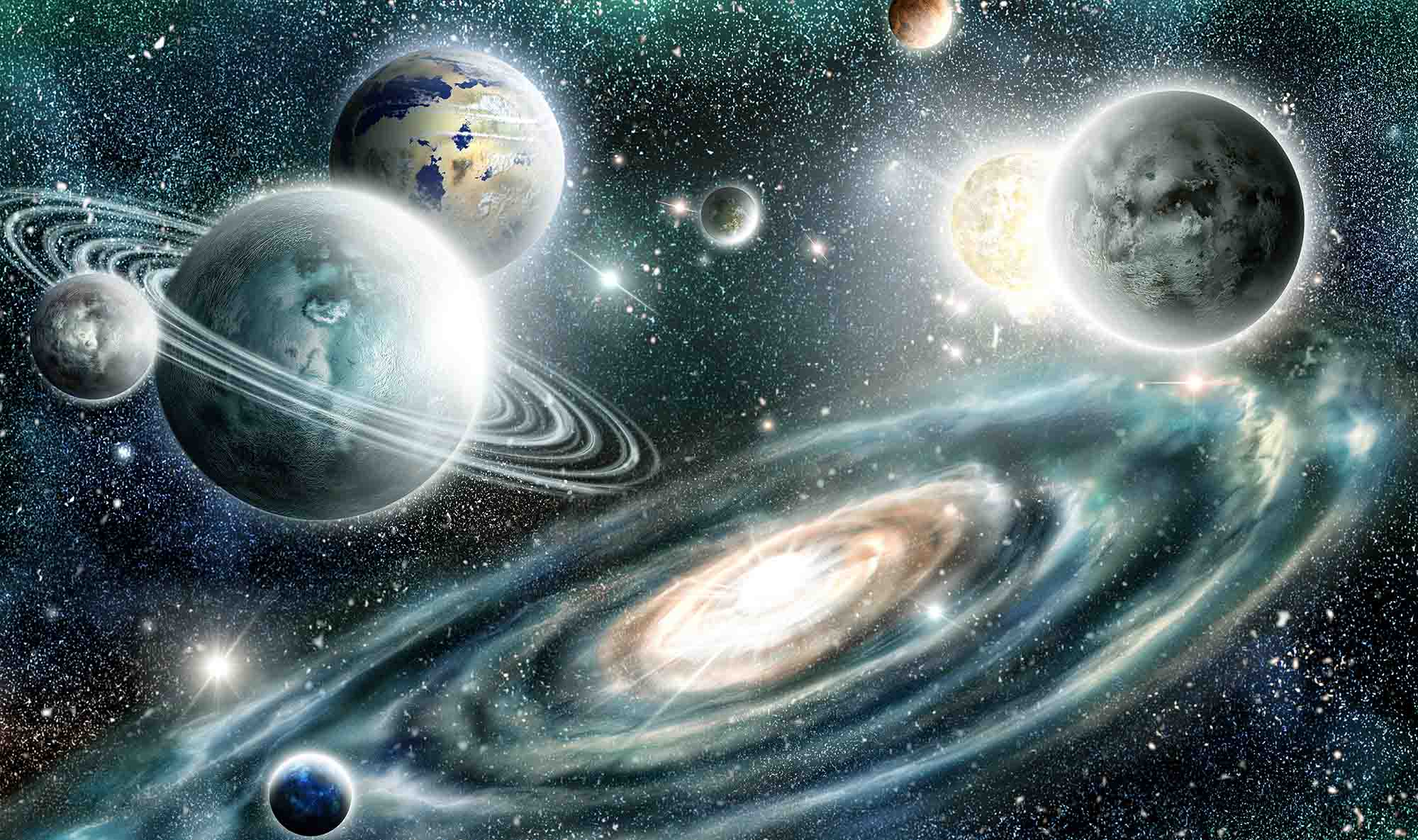 Pictured: Deep in Space
Accent wall murals are a great way to encourage a child's interests. If your child is fascinated by space, why not get them a wall mural that depicts the wonders of our solar system? Stick some glow in the dark stars to the ceiling for added effect, and at night, your little astronaut can drift off to sleep dreaming of space travel.
Travel
For those who are a little nomadic at heart and love to travel more than anything, the recent travel restrictions have been particularly tough. Until it's safe to voyage again, bring the wonders of the world to you with stunningly realistic wallpaper murals!
<H3> Machu Picchu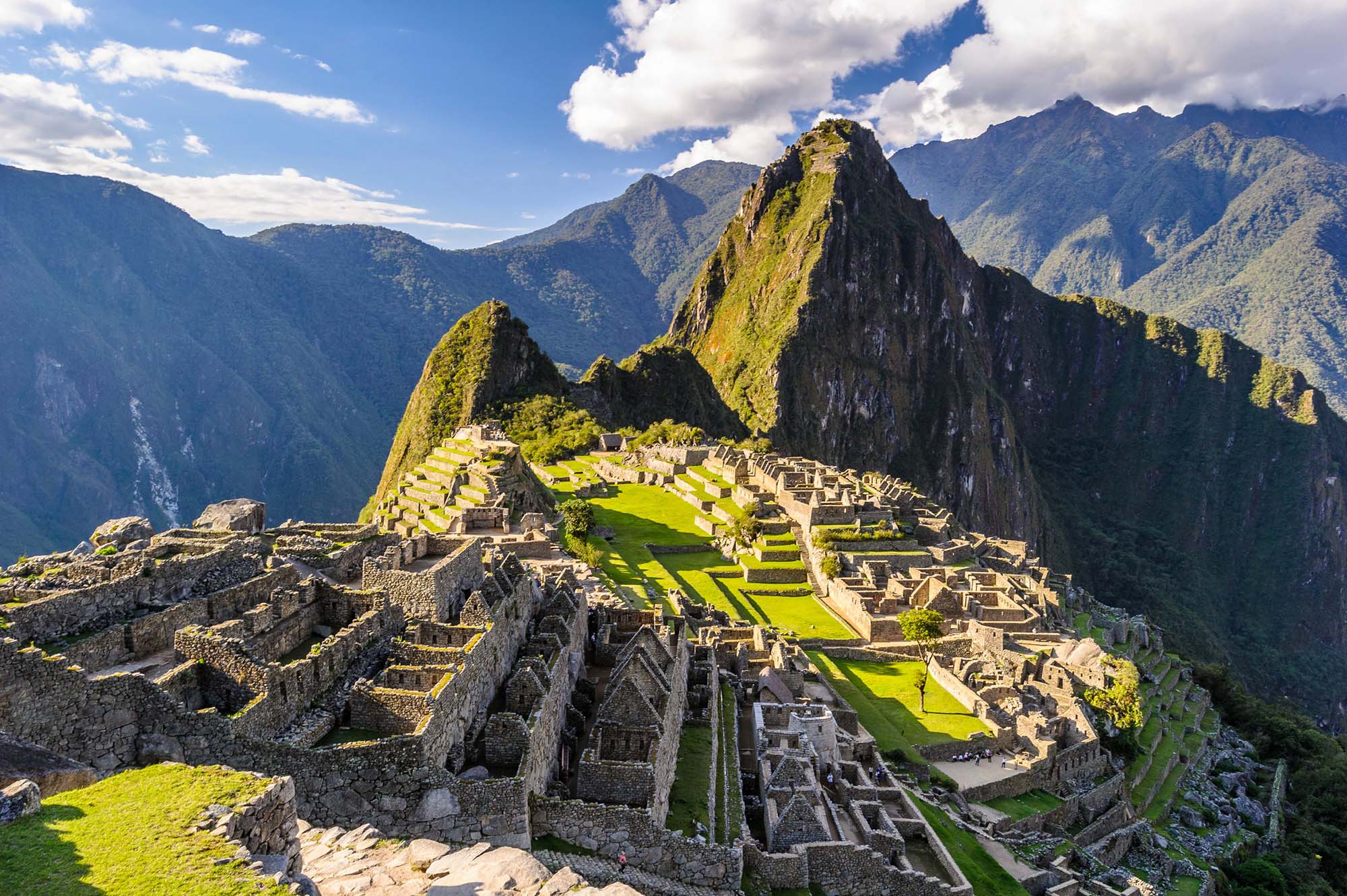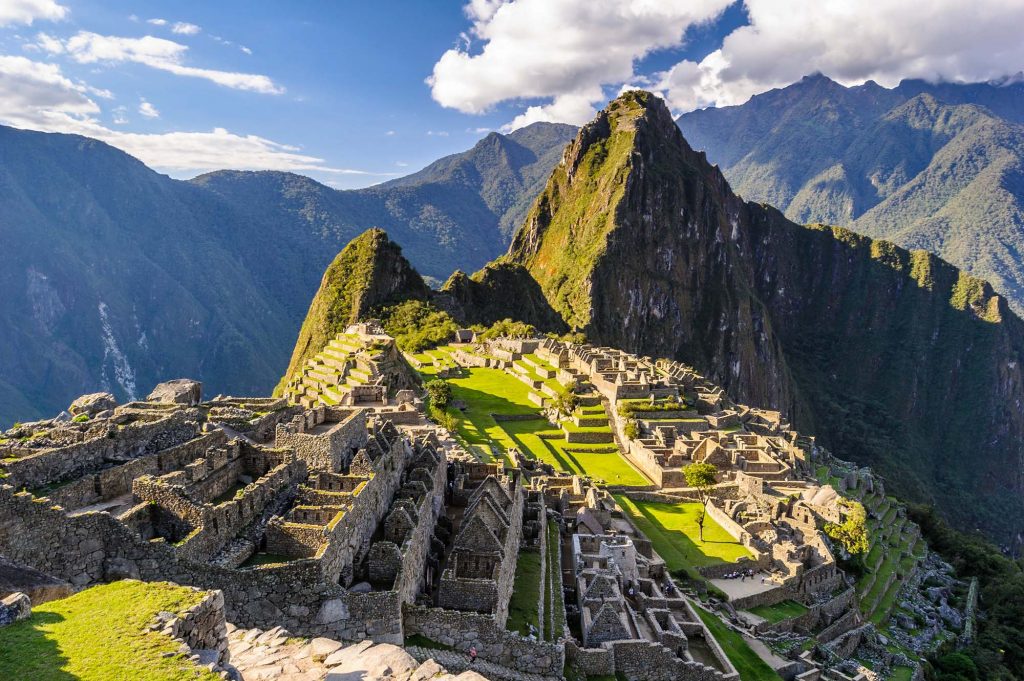 Pictured: Machu Picchu
Feel like you're on top of the world with this spectacular aerial view of Machu Picchu. Not only is the vista incredibly beautiful, but a wallpaper mural featuring such wide open space can make a small room feel much more spacious.
Santorini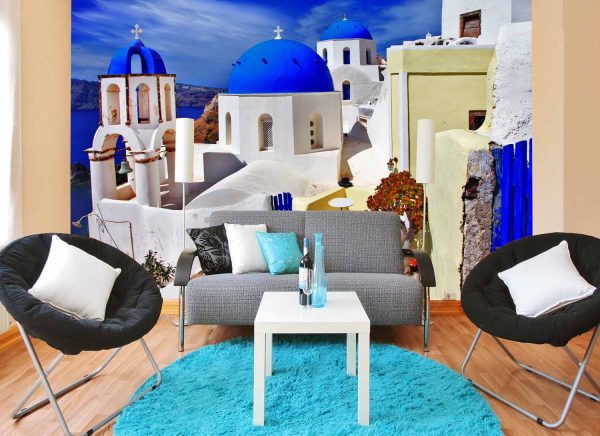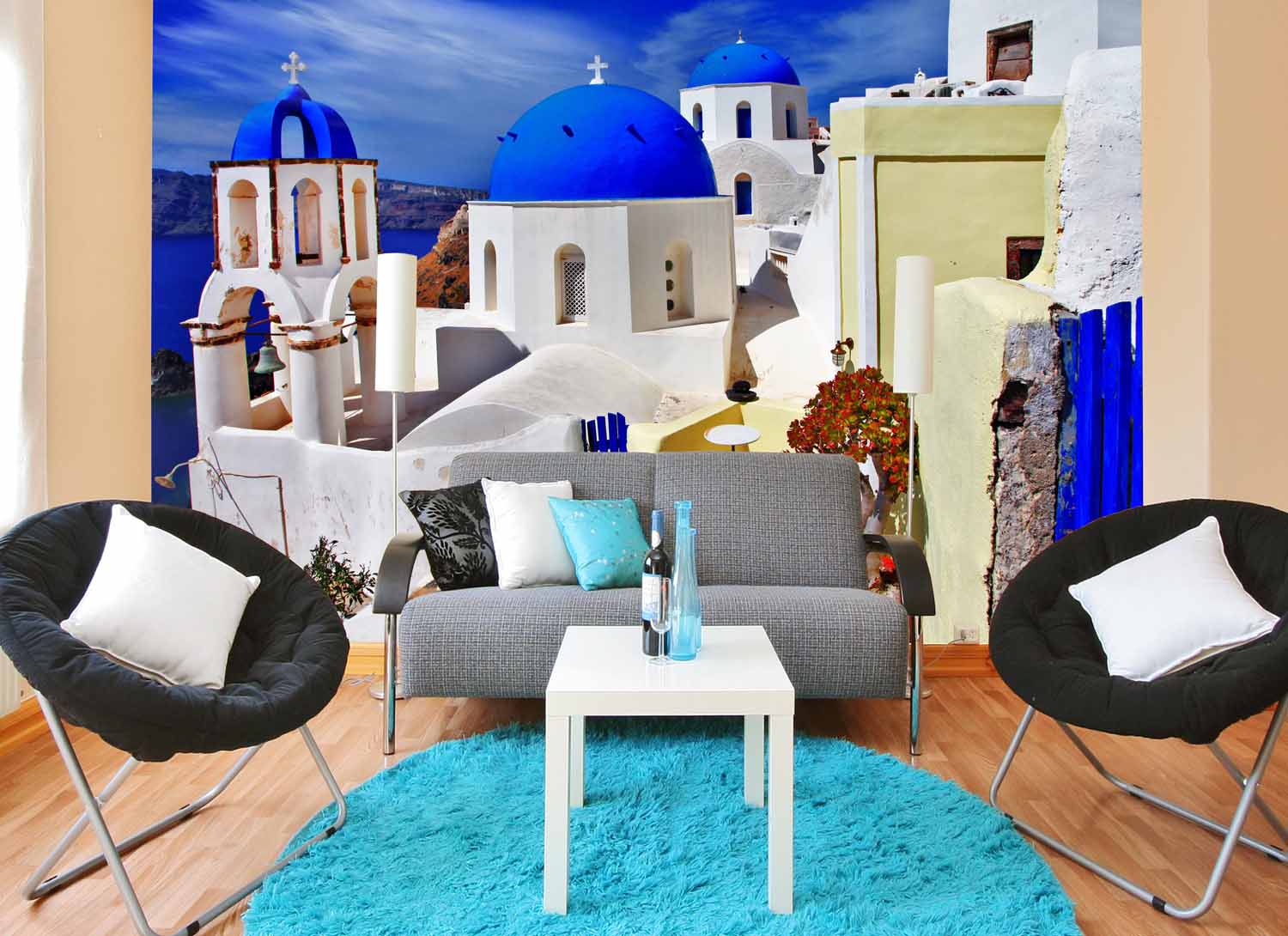 Pictured: Colors of Santorini
Brighten up any room with the vibrant colours of Santorini. Leave winter behind and transport yourself to this sun-baked paradise by the sea. No need to battle through droves of tourists when you can enjoy the view from the comfort of your own home!
Tranquility
If you want to bring peace and tranquility into your home, there are visual aspects of oriental spirituality that can encourage meditation and quiet reflection.
Mandala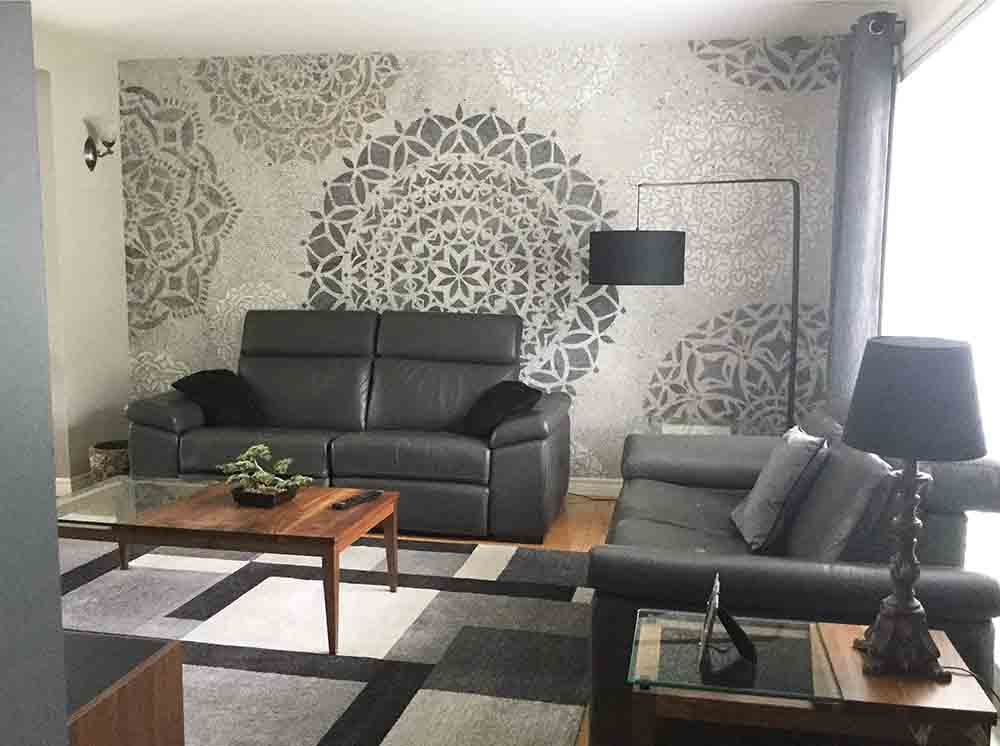 Pictured: Constellation of Mandalas
In Hindu and Buddhist traditions, mandalas are visual aids to meditation. They represent the circle of life and the interconnectedness of all living things. Focusing on the intricate, mesmerizing patterns can help you clear your mind of intrusive thoughts. If you're thinking of creating a space for yoga or meditation, a mandala accent wall mural is a great way to create a relaxing atmosphere.
Zen garden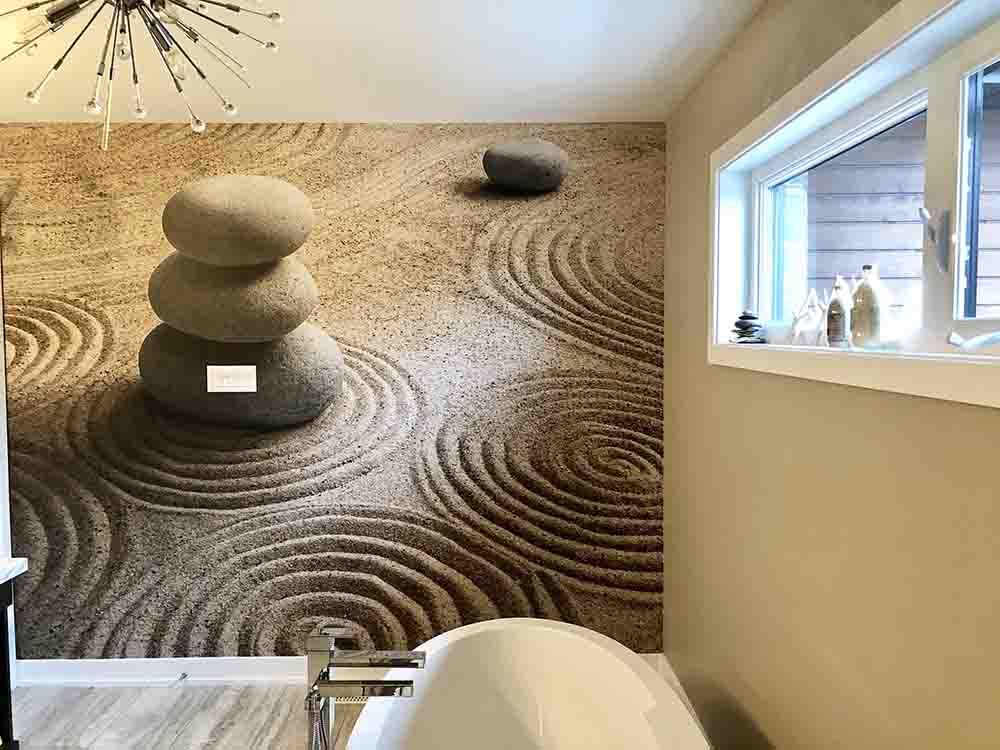 Pictured: Zen Sand Garden
Zen gardens are unusual in that they don't generally contain any plants. Instead, they feature stones and sand arrayed in distinctive patterns that are meant to convey a sense of simplicity, emptiness and peace. The concept originated with Buddhist monks in Japan, who wanted places to meditate that were free of distractions. If you want a space that will help you calm your mind but don't have room for a full-sized zen garden, an accent wall mural is the perfect solution!
Amazing accent wall murals available at Muralunique!
An accent wall mural is a statement piece that can really add flair to a room's décor. With the sheer variety of murals available, you are sure to find something that suits your tastes! Muralunique has a wide selection of beautiful, high-quality wallpaper murals that you can use to create an accent wall. Our reinforced paper murals are eco-responsible, biodegradable, and can be removed and reused easily without damaging the wall. Visit our online store today to find your ideal wallpaper mural!