The jungle is a very popular theme for children's rooms, so it is very easy to find decorative items, bedding, stuffed animals or wallpaper that fits with this theme. In addition, deep shades of greens and blues are trending colors for 2020. Also, punch and audacity are the order of the day this year. Classic monochromatic decorations in white, beige or light grey are gone and… it must be said, boring. Here are some suggestions to create a lively, stimulating and original decor for your little ones!
1. On the ground 
Obviously, the idea here is not to redo the floors, on the contrary. It's more about highlighting them. Area rugs are an excellent option and whether they are round, square, or rectangular, they have this quality to make a room warmer. In addition, they are very easy to find in stores or online. Our color suggestions? Blue, green or woven (brown) as below.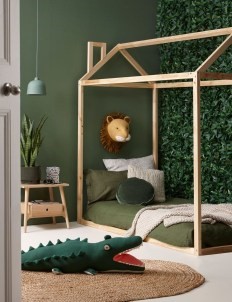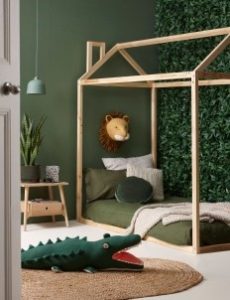 2. Decorating your walls
Decorating the walls is a very important step that can make all the difference between an ordinary room and a breathtaking room. Here are our two jungle themed favorites. Colorful, original and fun, these wallpaper murals are sure to appeal to young and old alike.
If you prefer to use paint for your walls, choose deep shade of blue or green and do not hesitate to paint two, three or even four walls.
"Birds of Paradise" wall mural from Muralunique.com: Muralunique.com/birds-paradise
"Jungle" wall mural from Muralunique.com: Muralunique.com/jungle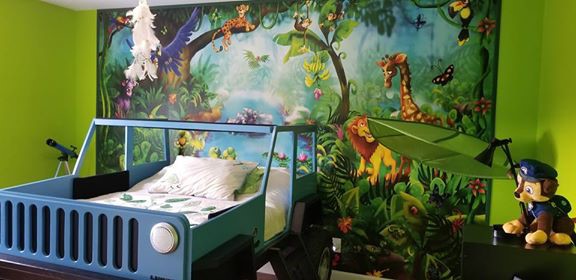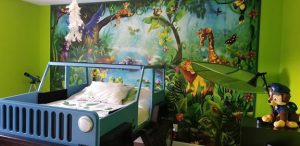 3. Deco items
Here's another jungle themed favorite: Löva bed canopy leaves from Ikea. Don't hesitate to use several in a room. Other deco suggestions? The game tunnels, also available at Ikea, are a great idea and your kids will love them. Don't hesitate to introduce stuffed giraffes, crocodiles, lions, exotic birds… any animal will find its place in your new bedroom setting. The idea is not to overload the room but rather to have the audacity to create a stimulating, fun and original decor.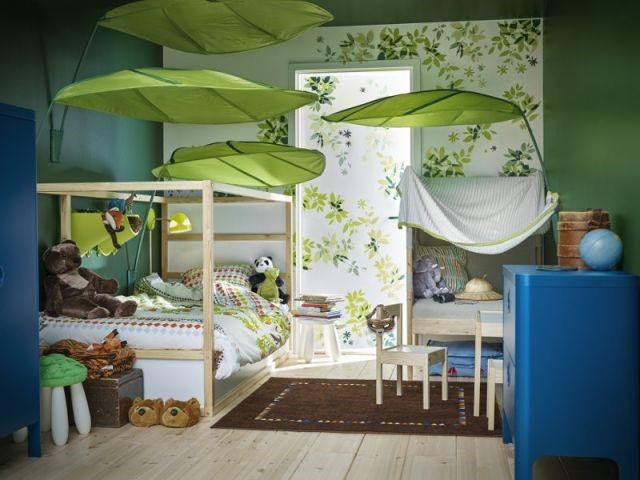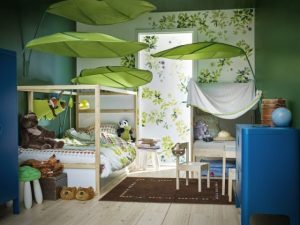 4. Furniture
If you can afford to buy new furniture, that's great. Choose furniture that can change and evolve with your children's age. On the other hand, if you can't afford it, it's very easy to find tips and advice on the Internet to freshen up and transform your furniture. A simple search on youtube.com "How to refresh furniture" gives you hundreds of results. A good idea to stimulate your senses and shine as an artist.
5. Bedding
You can choose monochromatic tones or original prints, such as foliage, vines or animals. Don't forget to choose a bedding that fits well with your walls: if you have installed a colorful wallpaper mural, select monochrome bedding and if you have painted your walls, prefer bedding with colorful and bold prints.

Creating a new decor for a child's room is an interesting and fun project, especially if you choose a theme such as "the jungle". Don't hesitate to search for ideas from what's available on the web, you'll find hundreds of inspiring ideas. Enjoy your decorating project!