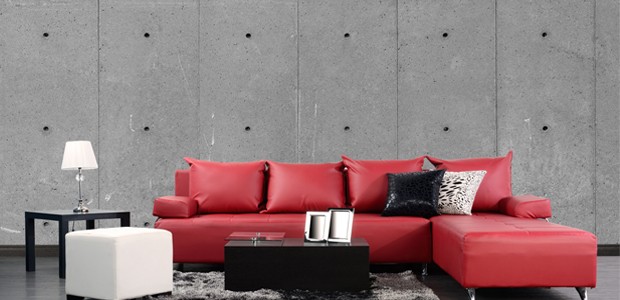 People often ask us what are the latest trends in wallpaper. It is easy for us to have the "pulse" of the market as we are in continual contact with our customers, designers and the leaders in home design. Although classic images such as landscapes or city scenes are among the most popular, people are now very interested in "textures," such as brick, wood, concrete, stone, etc…
With current technology, we can print wallpaper murals of absolutely extraordinary resolution (400-to-over-600 megapixels). To achieve this resolution, an image has to be photographed numerous times (20-to-140, 36-megapixels images), in a grid pattern and then stitched together to form a complete image.
Here is an example of a mural with a resolution of 430 megapixels, our wall mural "Something Concrete" (photography by Donn Petelka). Donn Petelka is our photographer specializing in very high resolution images and textures. His images are of such quality resolution that the mural looks "real". If you saw us at the SIDIM (Montreal International Design Show) or at the Home Show in Montreal, Quebec City, Ottawa or Toronto (IDS, National Home Show, Green Living Show), you've probably seen our wallpaper murals and understand what we mean. To view his images, go to the section "Search by Artist / Donn Petelka" on our website. You can also go to the "Textures" section: www.muralunique.com/textures.
Remember that if you have any questions, you can contact us at any time at the following e-mail: info@muralunique.com or from the contact page of our website.