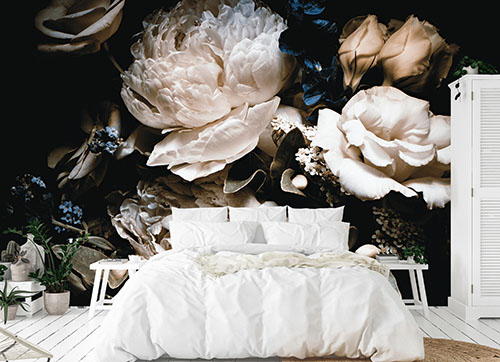 This year, following the "vegetal" trend, flowers are here! If you are looking for ideas to decorate your walls on the Internet, decoration magazines, or if you are looking to hire the services of an interior decorator, the trend is clear: flowers are in the forefront. More specifically, the trend is towards larger flowers such as peonies, roses, dandelions, dahlias, carnations and much more!
The floral trend
Whether it is to decorate a hallway, living room, bedroom, dining room or even for a bathroom; you will find stylish, chic and trendy flower wallpapers. Nothing to do with the dull and repetitive wallpaper from the 70s found on the four walls of a room.
To give more of an impact to your wallpaper, I recommend that you apply it on a single wall section, no matter which type of room. In a bedroom, the wallpaper can be astonishing as a headboard wall. It is also perfect for decorating a hallway behind a console. In a living room, the ideal wall is the one behind the sofa, to enhance it. No matter which room, floral wallpaper easily adapts to any environment. Whether you are looking for delicate patterns in discreet colors or bold patterns in vibrant colors, you will find a mural or wallpaper that you will enjoy.
What is the difference between a floral wallpaper and a floral mural?
It's not always easy to differentiate between both options. The classic floral wallpaper is bought in rolls, so it has repeating patterns on each width. Depending on the size of your wall, you will know how many rolls you should buy. If you choose a quality wallpaper, it is usually easy to install and remove. Again, nothing to do with wallpaper from the 70s which was impossible to remove!
The mural, on the other hand is a little different. It has a unique pattern, therefore a pattern that does not repeat from one width to another. It is available in different materials (paper or vinyl). I recommend without hesitation the mural printed on wallpaper. It will be easy to install and easy to remove (if you choose a quality wallpaper of course). Self-adhesive vinyl is more difficult to install and will most certainly damage your walls in the long term.
Whether you choose a classic floral wallpaper or a flower wallpaper mural, a multitude of choices are available to you. Personally, I love inviting nature to your walls by choosing flowers, nature landscapes or foliage. Here are my 2 favorites from Muralunique, a company that prints murals in excellent quality wallpaper.
Bouquet of Roses and Peonies – A bold choice to create a chic and elegant trendy decor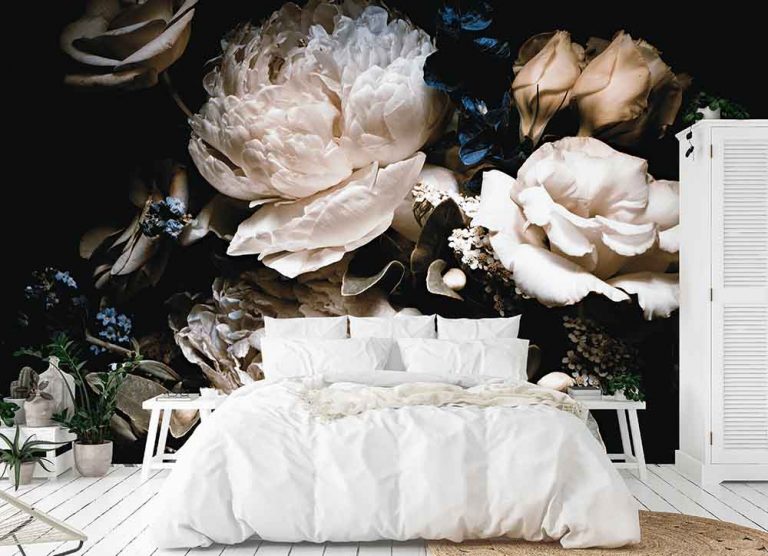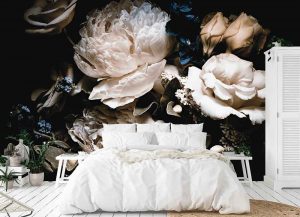 Paper Flowers -A more discreet but extremely versatile trendy design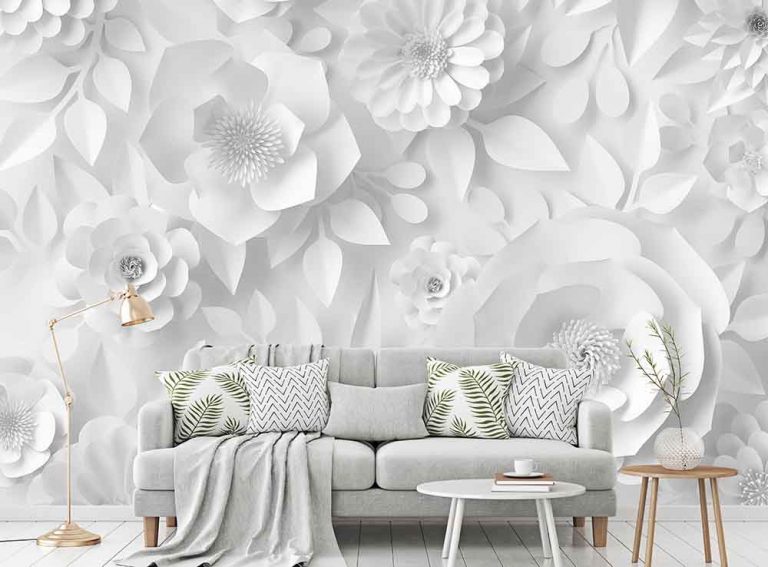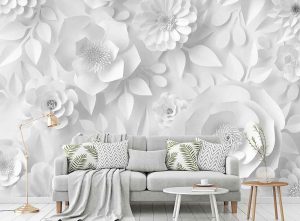 I love working with wallpaper murals, they transform your interior in the blink of an eye. An excellent option for a personalized, trendy, chic and daring decor. Good decoration to all!
Marie-Hélène Tremblay: Blogger, decorator and passionate about decoration J