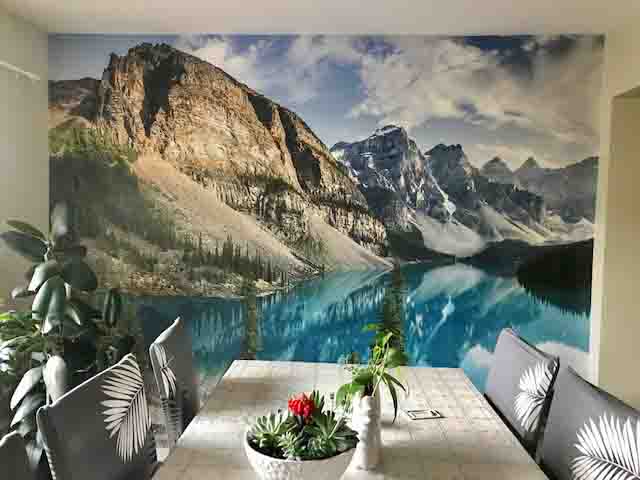 One interior design trend that has persisted in recent years is creating large, open-plan spaces in the home. Open spaces give a sense of scale and usability to a room.
However, these changes are not always possible when you want to enlarge a space. Nevertheless, there are other ways to make a small room look bigger, such as by installing a decorative mural.
In this article, find out how a decorative mural can help you visually enlarge your small rooms.
Find the right wall for your decorative mural
If you want to successfully enlarge your room with a decorative mural, you will first have to determine which wall to install it on depending on the room. The wall you choose will have a big impact on the illusory effect of the mural.
For example, if you want to enlarge your living room, you should install the decorative mural on the wall that receives the most light to amplify the depth effect. And if you want to make your bedroom look bigger, install your mural on the wall where your headboard is placed. Finally, the back wall facing the entrance to the room is the best choice for the kitchen.
Choose a mural that contrasts with the other walls
Another tip that will help you create a sense of grandeur in your small spaces is choosing a mural with shades and colours that contrast with the surrounding walls.
This can be done by choosing a mural with lighter colours and installing it on the largest wall in the room. For other walls, choose a darker paint colour that complements the mural.
Alternatively, you could do the reverse and apply a darker decorative mural in one area and then apply a lighter shade to the adjacent walls. This will create a unique sense of perspective in your small room!
Choose murals with a pattern that gives an impression of grandeur
One last tip to make your small room look bigger with a decorative mural is to choose a design that gives an impression of grandeur. Similar to clothing, horizontal and vertical patterns have a big impact on the look of a room.
If your ceilings are fairly low, a wallpaper mural with abstract or geometric patterns could make your room look taller.
Otherwise, if you want to create the illusion of a wider room, go for a mural with a horizontal pattern.
Transform the look of your small room with decorative murals
There are many ways to enlarge a small room with a decorative mural. Now that you have these few tips in hand, it's up to you to transform the rooms in your home into a real work of art!
Do you want more advice on choosing a decorative mural and how to install it? Simply contact us and we will be happy to help you!