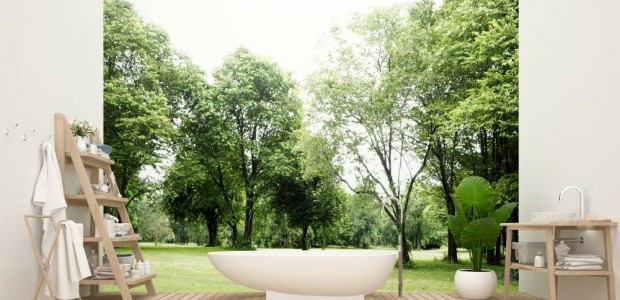 Wallpaper is an excellent way to add personality and style to a bathroom while avoiding the hassle and expense of tiling. However, not all types of wallpaper are well suited to the conditions of this room.So, what type of wallpaper mural should you choose to decorate a bathroom?
The unique conditions of a bathroom and their effects on wallpaper murals
There is no doubt that the bathroom is the room with the highest level of humidity in a house. These unique conditions can cause some wallpaper adhesives to lose their effectiveness. Over time, it may come off the wall or small bubbles may begin to form in some areas.
In addition, splashing are common near sinks, toilets, showers and baths. This can also accelerate the degradation of wallpaper murals in some high-risk areas.
Splash-proof wallpaper
If you are thinking about covering the entire room, or especially the area near the sink and bathtub, most bathroom decorators recommend installing a splash-proof wallpaper mural. This type of wall covering is specially designed for very humid areas and can even be wiped clean when dirty or wet. In addition, the risk of mould growth is almost non-existent. These properties also make it a natural choice for modern kitchen walls.
Use traditional wallpaper
Standard wallpaper could still be a suitable choice to personalize your space. In addition, if the area you would like to cover is not too close to the bath or shower, it probably won't be splashed very often.
Some coatings can increase the life expectancy of a wallpaper that gets splashed
If a traditional wallpaper has won you over, but you are concerned about its durability, you can increase its water and moisture resistance by using a varnish or coating designed for this purpose.
Since there are several on the market, choose a product that does not alter the colour of the wallpaper and perform a test first before applying it to the entire wall.
Trust the Muralunique team to decorate your bathroom walls
In conclusion, some wall wallpapers are better suited than others for use in a bathroom. Make sure you know the specific properties of the product before you make your purchase and opt for a quality product.
To make the best possible choice and give your bathroom a unique and distinctive look, you can count on the expertise of Muralunique's team. Offering unique and custom-made wallpaper murals, we can guide you to the most suitable choice for your decor. Muralunique also offers a very high quality product, free of plastic, eco-friendly and biodegradable, which is perfectly resistant to long-term bathroom humidity.