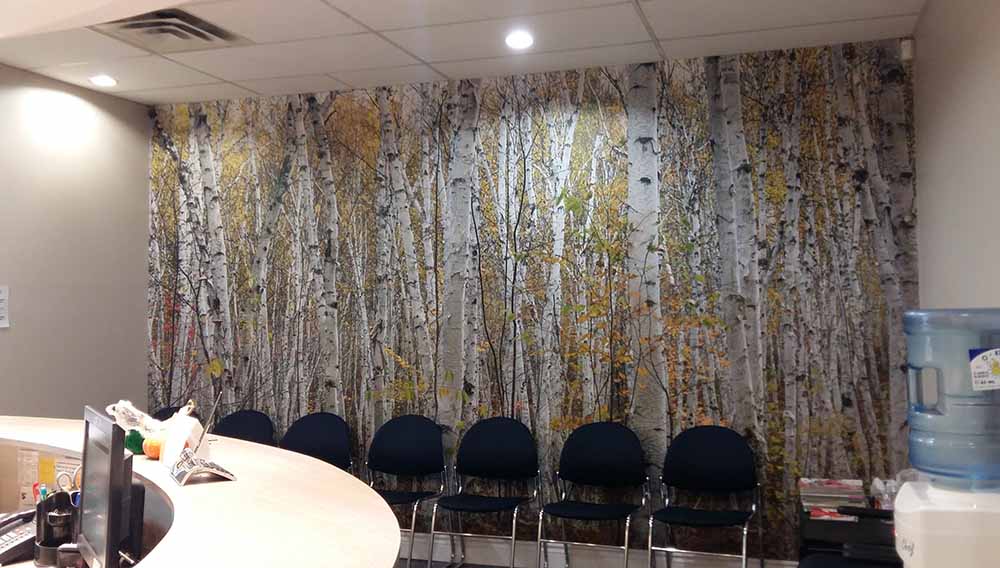 Is your company's waiting room beige and boring? Are you looking for creative ways of offering your clients or patients a peaceful atmosphere?
Here is why choosing a mural as waiting room decor could be a good option for you!
Maximize your company's visual impact with a decorative mural
Interior design of commercial, industrial and professional spaces has become an indispensable marketing tool in the last few years for multiple reasons.
The popularity of social media networks such as Instagram has encouraged companies to optimize the visual impact of their branding to stand out from the competition. Some companies have even seen an increase in profits after revisiting the design and aesthetic of their space.
With this in mind, using a mural as waiting room decor can change how people perceive your company. From the moment they walk in, your clients or patients will understand the character and values of your company based on your mural decor.
For example, a nature or landscape mural in the waiting room of a peaceful spa can evoke relaxation and tranquility sought by those who visit this type of establishment. This will help enrich customer experience from beginning to end.
Decorate your waiting room with a mural to create a welcoming atmosphere
On top of reinforcing your visual impact, decorating your waiting room with a mural can also help you create a warmer and more welcoming atmosphere.
While painting your walls can help create a certain atmosphere, a decorative mural brings a room to a whole new level and makes a space more welcoming by adding depth and texture.
For example, installing an original decorative mural could be a great benefit in the waiting room of a pediatric dentist office, where young patients are sometimes nervous. A jungle or ocean-themed mural can foster a child's imagination and help calm them right before their appointment.
Murals are easy to clean and facilitate proper hygiene
With good hygiene being more important than ever, your different spaces must be easy to clean and disinfect. This is particularly true in a waiting room, where many people come and go throughout the day.
The murals at Muralunique are made from paper with a moisture and bacteria resistant finish. You can therefore use a mild soap to keep your walls and waiting room clean at all times without worrying about damaging your mural.
Decorating your waiting room with a mural: a wise choice
Decorating your waiting room with a mural is a good way to stand out from the competition, impress your patients or clients and ensure that your work space has impeccable hygiene.
Are you interested in installing a decorative mural in your waiting room? Our graphic designers can give you expert advice on choosing the right on-brand mural for your company. Contact us today to benefit from the expertise of our specialists.