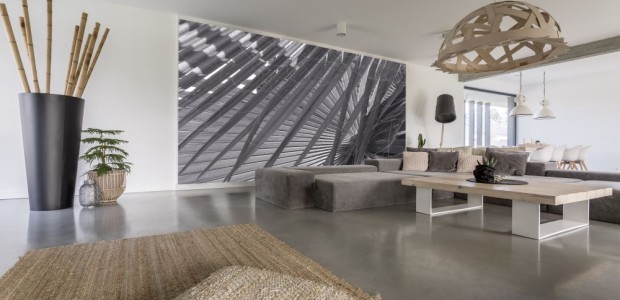 Looking to revamp one of your rooms with a new wallpaper mural, while making sure you maintain a certain balance between the colors of your walls and your furniture? This is a task that can come naturally to artists, decorators and designers, but is more difficult for others.Here are 3 rules to follow to maintain well-balanced colors in your room. These tips apply to all types of murals and all rooms in your home. Follow our recommendations to make sure your new mural will turn heads for the right reasons.
Choose your mural based on your furniture, not the other way around
If you already have furniture that you want to keep, choose your mural based on your furniture. You will find it easier to look for a mural that matches your furniture. You may be slightly more limited in the choices available to you, but they will better complement the furniture you already own.
Of course, if you don't already have your furniture, there is nothing to stop you from choosing your mural beforehand. The important thing is making sure that the furniture you buy afterwards will match it well.
Avoid overly bright colours to easily match your furniture with your mural
It can be tempting to be a little daring and go for a colorful or whimsical wallpaper mural. There's nothing wrong with this choice, but keep in mind that it will be much harder to find something that goes well with your furniture. Just remember that the more different colors your mural has, the harder it will be to match with your furniture.
We also recommend choosing relatively subdued tones. It is more difficult to accentuate furniture with bright red or lemon yellow than with light brown or navy blue. Decorative brick murals are very trendy at the moment and a brick imitation wallpaper mural will make your light wood furniture stand out.
Contrasts: the key to matching your mural with your furniture
This rule applies to both paint and wallpaper: if your furniture is dark, choose light colours for your walls. A mural in shades of white or beige will complement your black furniture perfectly. Glass furniture also brings out the impression of luminosity offered by lighter walls.
Conversely, if your furniture is light, choose a darker mural. Black and dark grey give a modern look to the room, which can be perfectly complemented by lighter furniture. Black and white prepasted wallpaper murals are also very trendy. Match them with brightly colored furniture to give the room a stunning effect.
Contact us for more advice on how to match your mural with your furniture
Before you invest in decoration, it is always best to have a good idea of what you want. If you would like more advice on choosing your next wallpaper mural, you are welcome to contact us. We can help you choose a mural that perfectly matches your room, your furniture and your tastes.