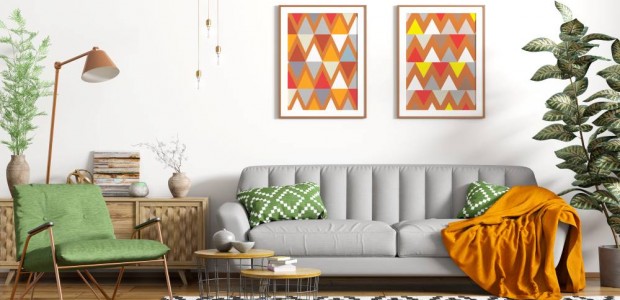 Walls provide many opportunities for interior design. They not only define the space within your home, but also allow you to add a touch of personality. However, enhancing the walls of your home is not so obvious, because even though there are many options, it can be hard to choose which style to apply.
Discover 5 quick and easy to apply wall decoration ideas that will help you showcase the interior walls of your home.

1 – Wallpaper: the easiest wall decoration idea to install
Wallpaper has made a strong comeback in wall decoration trends in recent years. Long considered as an old-fashioned wall ornament, wallpaper has been given a new lease on life with its many qualities. It is easy to maintain and offers a wide choice of materials, textures, patterns or colours, allowing you to adapt to the style of the room while visually defining the space. Thanks to advances in digital printing, you can even design a custom wallpaper mural. This allows you to make your decorations unique by using your own creations or photos.
2 – Varied frames, the ideal wall decoration
Do you have a high ceiling? Why not cover your wall with a variety of frames. Frame-filled walls are particularly popular lately since they revamp your decor in a unique way. Not only do they bring an empty wall to life, but they also allow you to create new layouts. You can combine various illustrations when designing a wall with different types of frames. Let your imagination run wild to create a look that reflects you.
3 – The giant pegboard, a smart addition
The pegboard is another easy-to-install wall decoration idea for your home. This is the best option to innovate or transform a wall into a storage space. This storage element consists of a wooden fibre panel with openings that can be fitted with hooks to install different objects. Attaching this panel to the wall can produce a very surprising result. Pegboards are practical and functional and can be configured as you wish to suit your needs. Add plants and ornamental elements and you're done!
4 – Chalkboard paint
What could be more enjoyable than having permission to write on the walls. With chalkboard paint, you can let your creativity take over. This easy-to-maintain decoration gives you the freedom to draw and write what you want based on your daily inspirations. Chalkboard paint perfectly covers an empty wall at a low cost. This decoration will please everyone, from the youngest to the oldest.
5 – The wooden barn board wall
A wooden barn board wall is an easy-to-install and inexpensive wall decoration that adds character to a room. The appeal of barn wood is growing because of its aesthetic and eco-friendly aspect. Wood is a material to prioritize when you want to create a warm environment in a room.
If your walls are not suitable for installing real wooden panels, you can always use wallpaper murals that imitate barn wood. This is a low-cost alternative solution that will let you enjoy this decoration without the constraints.
Muralunique: wall decoration ideas that are quick and easy to install
In short, there are many possibilities when you want to decorate your walls. Wall decorations make it easy to enhance the appearance of a room and customize it to your taste.
If you want to know more about decorating ideas for your home, including the installation of custom murals, you are welcome to contact Muralunique. Our team will be happy to help you find the perfect mural for your interior design.