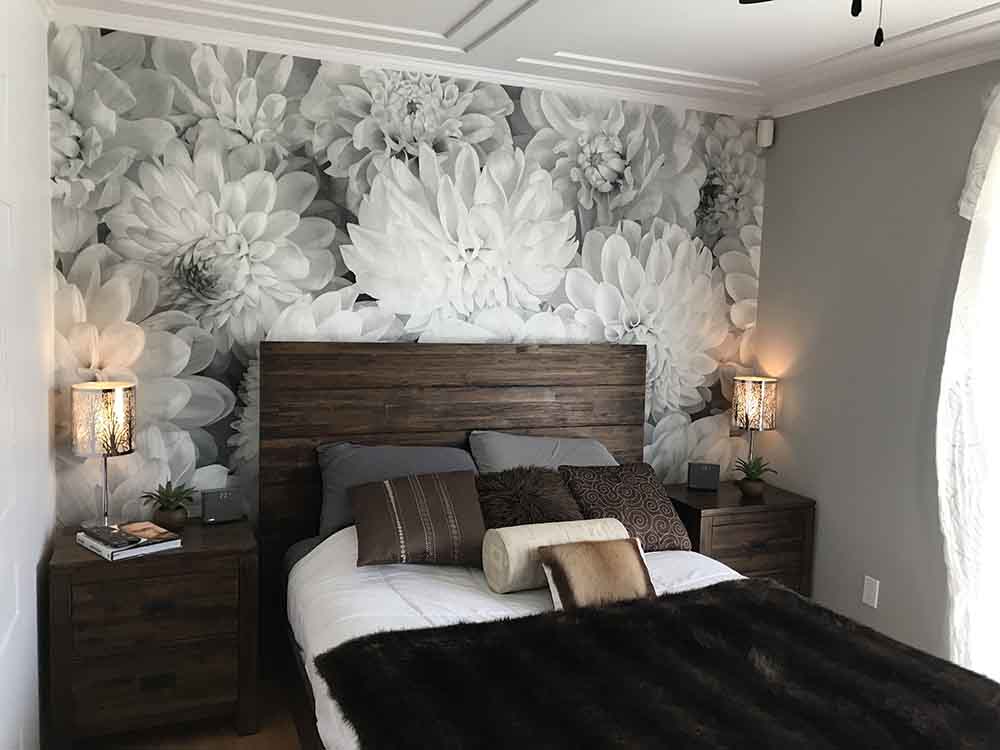 Do you want to give your bedroom a new lease on life, but don't have the time or financial resources to tackle a major decorating project? There are dozens of ways to give a bedroom a makeover in a short period of time without breaking the bank.
As a guide, we've compiled 5 quick, effective and affordable ways to dramatically transform the look of a room without changing everything. As you will see, adding a tiny detail to the room can make all the difference.
Install a wallpaper mural for a quick bedroom makeover
Changing the wall colour is an effective way to completely transform the look of a room. Add a little imagination to your room by dropping plain walls and going for a wallpaper mural. This is an original way to personalize your room and make it truly personal.
You can choose a ready-made mural or opt for something more unique by ordering a custom mural. The possibilities are virtually endless, but make sure you choose the right colours for your bedroom so that you don't get bored with it after a few years.
Change the lighting arrangement for a fresh atmosphere
You will be surprised how much the brightness of a room influences its overall atmosphere. In lieu of the traditional ceiling light, experiment with the arrangement of strings of lights or use several small lamps to create a different atmosphere.
You can also change the colour of your light bulbs. If you decide to do this, keep in mind that drastic changes and intense colours should be avoided. Instead, go with a slight change in hue: subtlety wins when it comes to lighting.
Give your bedroom a makeover by adding life to it!
If your room feels dull and lifeless, add a touch of nature by putting in a few plants! You don't need to turn your room into a jungle: one or two small plants will do the trick and require little maintenance. If you have no experience with plants, start with easy-care varieties like cacti and succulents.
Change your bedding for an affordable makeover
Changing your bedding is fast, efficient and affordable, giving your room a whole new look. For a greater effect, don't hesitate to choose colours and patterns that are completely different from what you had before. Just be careful to choose bedding that will blend well with the colours of your walls and furniture.
Personalize your room with photos and posters
Bedroom walls should not be bare. They should reflect your personality. A great way to express this is by lining your walls with photos and posters that represent you well. This will help you end up with a room that reflects you, which will look much less empty and devoid of personality.
Visit our blog section for more decorating tips
We hope that these tips will help you give your bedroom a makeover in no time without exceeding your budget. For more articles on interior design, we invite you to visit our blog section.
If you have decided to install a wallpaper mural in your room, we welcome you to contact us. We have a wide range of murals in stock for all tastes and can design a totally unique custom mural for you.