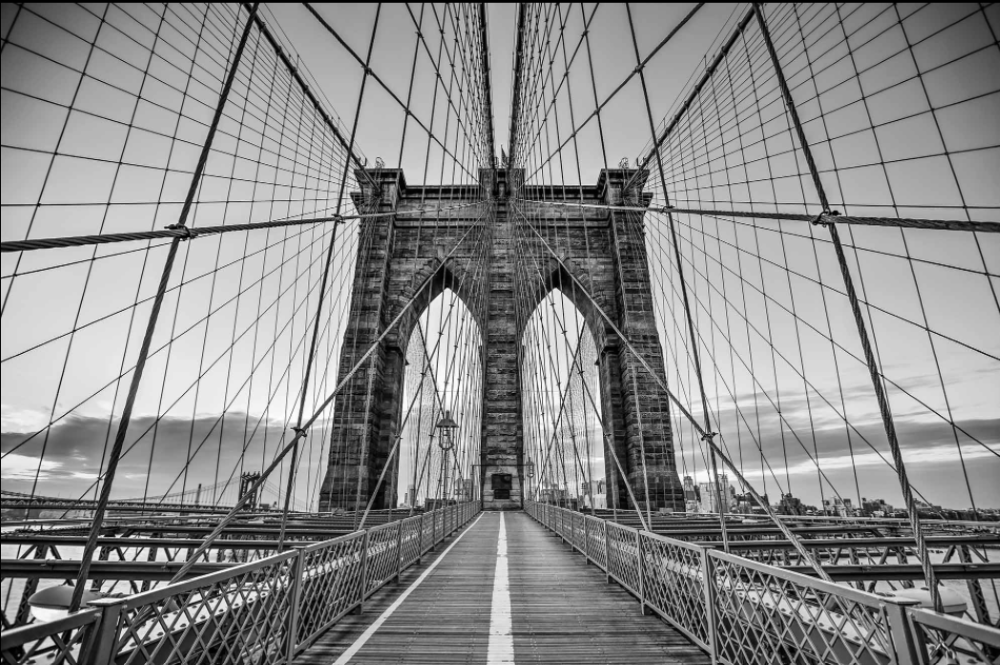 Have you always dreamed of living in a big loft like in the movies? Why not recreate this space in your home with an industrial interior design?
The industrial style is increasingly popular in interior design. This style can create a living space that is modern and warm at the same time.
Interested in this style? Here are 5 decorative wallpaper murals to create this style in your home!
1. A mural with neutral colours to complement your industrial interior design
One of the basics of industrial interior design is plain and neutral colours. Shades of brown, beige, grey, black and white should therefore be prioritized.
Choosing a decorative mural with this wide range of colours is an excellent idea to complement an industrial style.
For example, not only is this black and white mural of the Brooklyn Bridge beautiful, but it also does not limit your decor. It blends perfectly with the more neutral colours of the industrial style and also gives you the option of including some more colourful accents.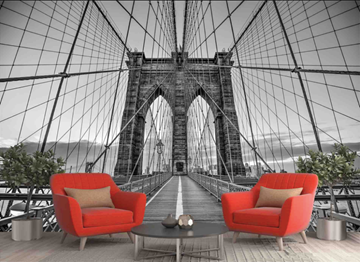 2. A hint of texture on the walls to contrast with your furniture
Another typical feature of industrial interior design is the mixture and contrast of textures.
A good example of this would be choosing to place a modern black leather chair in front of a red brick wall. The contrast of a textured wall and a simple fabric creates an elegant effect.
To recreate this effect at home, you could choose this old brick wall mural. This mural offers an interesting texture as well as an ideal colour palette for an industrial style.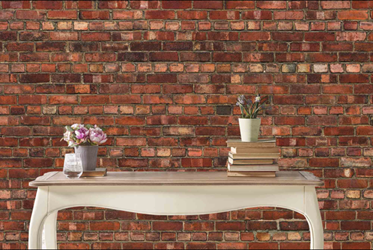 3. A decorative mural that creates an open space
When we think of an industrial space, we often think of it as a large open space, like a loft. However, it may not be possible to have an open space in your house or apartment.
A wallpaper mural that gives the illusion of a more open space may be a good option. As an example, choose an image of an urban landscape, such as this mural of the famous "Lunch Time" picture. A mural like this can add a lot of perspective to a room and give it a sense of dimension.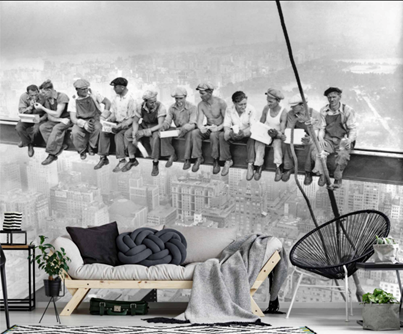 4. Wood, one of the preferred materials for industrial interior design
The combination of industrial and rustic decor elements is an increasingly popular trend. It is therefore not uncommon to see a wooden furniture arrangement in an industrial setting.
Wood can also be used as a wall covering in an industrial interior. This barn wall mural pairs perfectly with modest furniture by adding an interesting texture to your wall.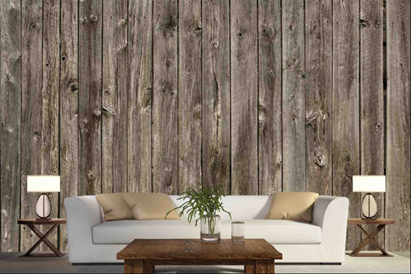 5. Perfect industrial interior design with a concrete wall mural
While a wooden wall is a great option for industrial interior design, a concrete wall can also create the effect you are looking for.
In fact, a decorative concrete wall mural makes it possible to opt for more eclectic furniture and decor. The simplicity of a concrete wall is an excellent canvas for more textured and colourful decorative elements, such as a carpet or a velvet sofa.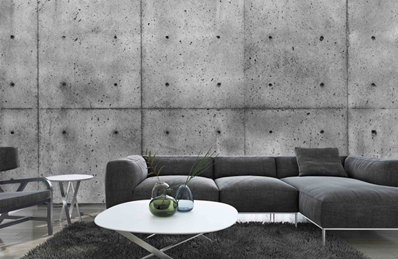 Create the perfect industrial style with Muralunique
In short, a classic industrial decor consists of neutral and simple colours, contrasting textures and combinations of materials such as concrete and wood.
At Muralunique, you will find a very large selection of wallpaper murals to create the perfect industrial interior design.
Visit our online store now to browse through our various decorative murals.