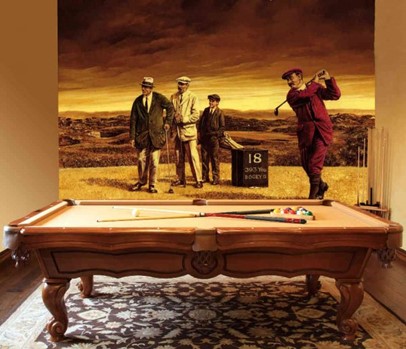 Finishing, renovating or redecorating a basement is an arduous task, but it can also be a very rewarding one. The basement is a unique space that can be designed to suit quite a wide variety of uses. Since it's a bit off the beaten track and isn't the first space guests are likely to see, you also have a bit more freedom to have fun with the décor.
No matter what you're planning to use your basement for, there's sure to be a wallpaper mural that suits your taste and style and can be used to liven up the space. Here are some basement wall mural ideas for inspiration!
Wall ideas for a basement exercise room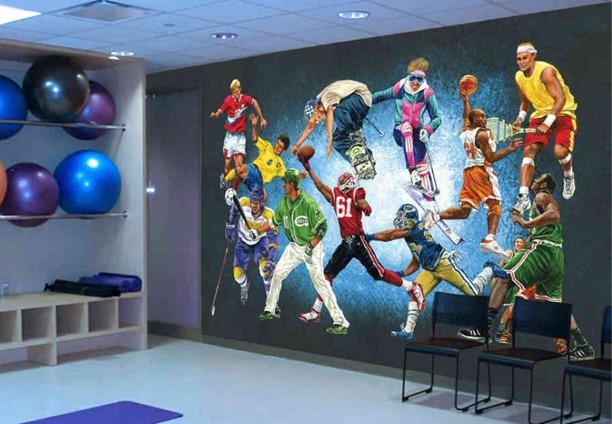 Pictured: Sports Unlimited
Having an exercise room in your basement is a great strategy for keeping fit. Once you have your set up in place, you'll save plenty of time and money you would have spent going to the gym. That being said, it can be difficult to motivate yourself when working out alone, particularly in a basement room without much to look at. Having a colourful, energetic sports wallpaper mural in your exercise room can spur you on and inspire you to achieve your fitness goals.
Wall murals for a basement game room
Are you a foosball, air hockey or pool enthusiast? If you have your game of choice set up in your basement, you'll want an engaging atmosphere to play in. A wallpaper mural can help you achieve the aesthetic you want.
Give yourself a cheering section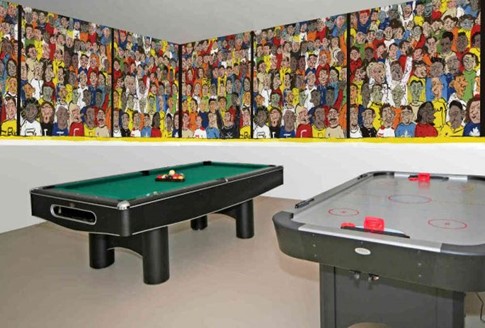 Pictured: Hockey Fans
One way to create a fun, festive atmosphere for your basement game room is to give yourself an audience. Surround yourself with a wall mural full of fans and imagine the roar of the crowd as you face off against your opponents and win the day!
A stately pool room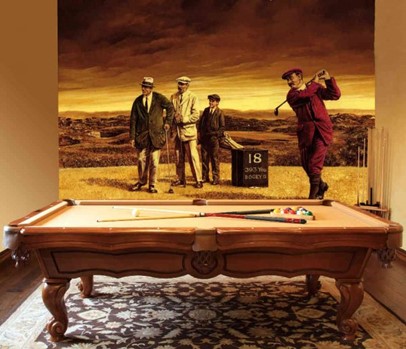 Pictured: Bogey 5
If you're aiming for a more refined aesthetic, consider opting for a wallpaper mural that emulates an antique painting. The sepia tones of this artwork will pair beautifully with luxurious wood furnishings, pool cues, and perhaps a bottle of whisky or two.
Turning the basement into a kids' playroom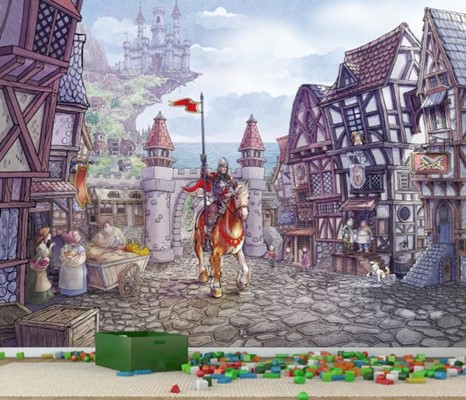 Pictured: Knight
If you're planning to turn the basement into a playroom for your kids, there are a plethora of delightful children's wallpaper murals to choose from. Bring pictures of faraway lands or fairy tale kingdoms into your basement to stimulate your children's imaginative play!
Bring a hint of the outdoors into your basement
Being mostly underground, basement spaces can suffer from a lack of natural light and greenery. A nature wallpaper mural is a creative way to compensate for that deficit.
An image of natural light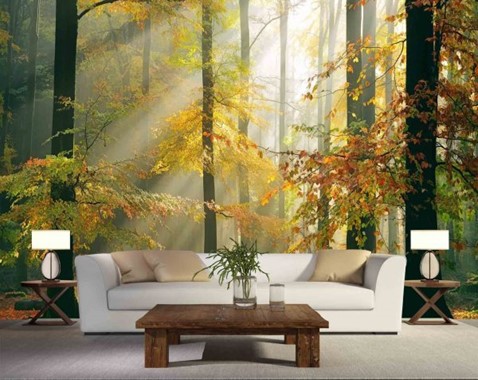 Pictured: Sinfonia della Foresta
This stunning wallpaper mural can bring the warmth and peace of dappled forest sunlight to even the darkest of basements. Those who find nothing more relaxing than being out in nature and those who suffer from seasonal mood shifts will feel particularly rejuvenated by this basement décor.
Imitation windows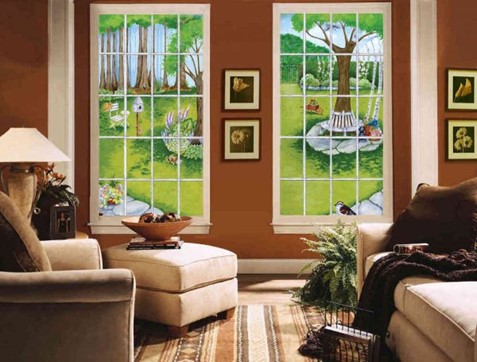 Pictured: Room with a View
If you're particularly upset by the lack of windows in your basement space, you can always avail yourself of wall murals that imitate the window experience! Feel as though you're looking out onto a charming backyard with this picturesque trompe l'oeil mural.
Get the perfect wall mural for your basement from Muralunique!
No matter what you want to do with your basement, there's a wall mural that can help you achieve the aesthetic you're looking for. Muralunique has a vast selection of wall murals to choose from, as well as a custom wall mural option if you'd prefer to create your own. Browse our collection online or contact us today for high-quality wallpaper murals that are eco-friendly, reusable and easy to install!