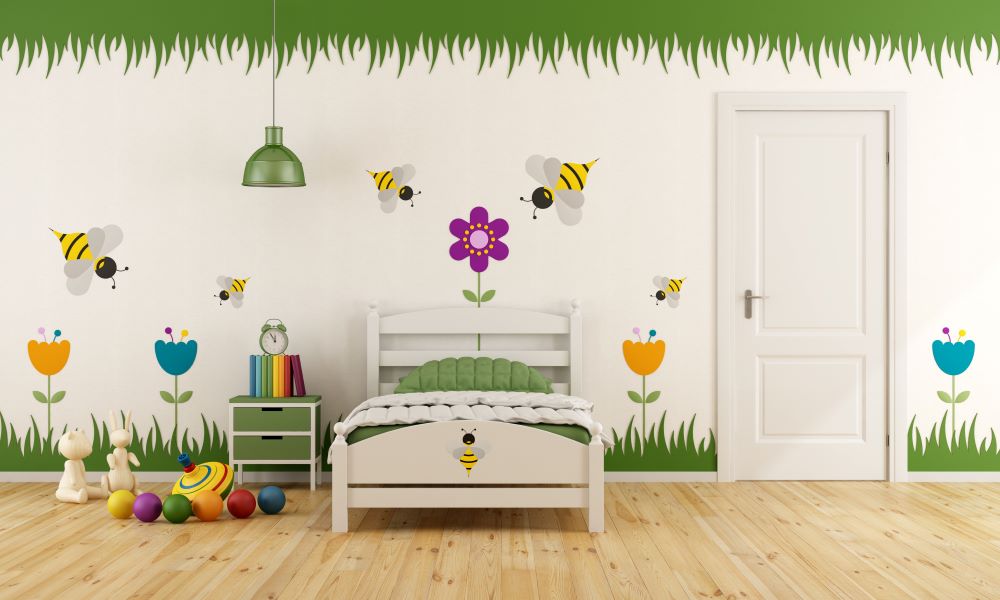 Are you expecting a baby and feeling the urge to nest but unsure where to start? You don't need to be an interior designer to come up with nursery décor your little one will love! When preparing the nursery, it's a good idea to start with a theme or statement piece and build out from there.
A wallpaper mural is a fun, easy way to add warmth and personality to your baby's room. Once you've chosen one that speaks to you, you can coordinate the colours of the furniture and other nursery decorations to match, creating a room that's picture perfect for your new arrival!
Need inspiration? Here are 10 great ideas for nursery wallpaper murals.
Fantasy and adventure
Fairies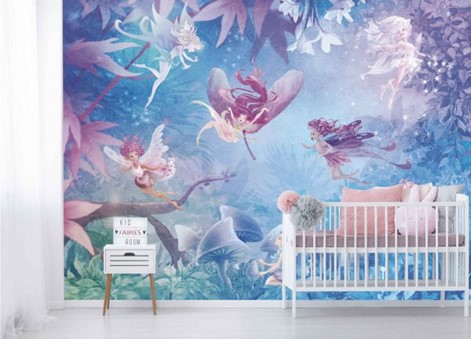 Pictured: Fairies
If you love fantasy and want to create a whimsical haven for your little one, why not send them off to sleep in the land of the fairies? This magical mural is sure to provide you with inspiration for enchanting bedtime stories, and the stunning range of blues, purples and pinks gives you many options for matching nursery décor!
Pirates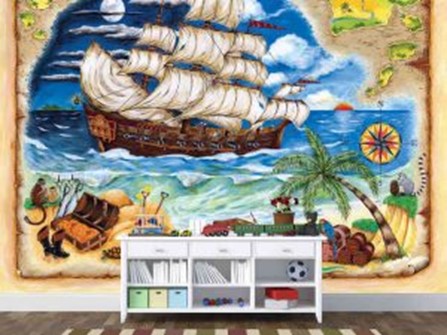 Inspire your little one's imagination with adventure on the high seas! This nautical mural provides a wealth of opportunities to have fun with your nursery décor, from treasure chests for toys to parrot plushies. Top it off with a constellation mobile and let your baby drift off among the stars to the rush of the waves.
A good sense of fun
Counting sheep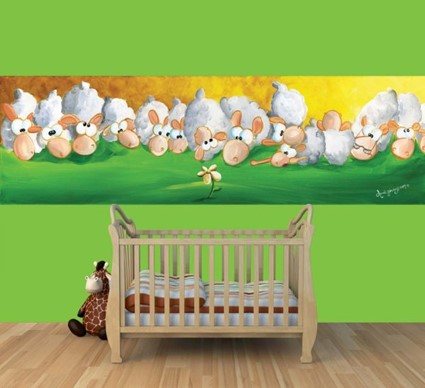 Caring for a newborn takes a lot of work, but there's nothing like a good giggle and a nap to leave you feeling renewed! Counting these silly little sheep with your bundle of joy can put a smile on your face and help both of you get to sleep. This mural is a great option if you find that a wallpaper mural covering a whole wall is too overwhelming.
Polar penguins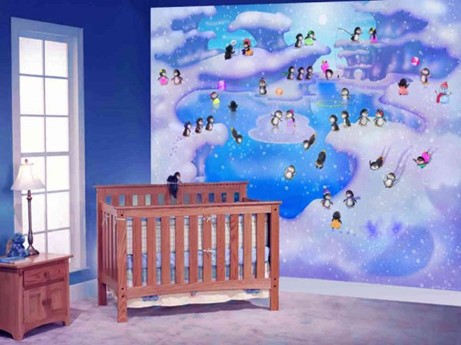 If you live in the cold, white north, it's good to get your child acclimatized to snowy conditions—the earlier the better! This lively penguin mural depicts a host of winter activities that show just how much fun the cold can be. Take inspiration from the vivid blues and whites of the wallpaper mural and turn your nursery into a true winter wonderland!
Minimalist designs
A tasteful tree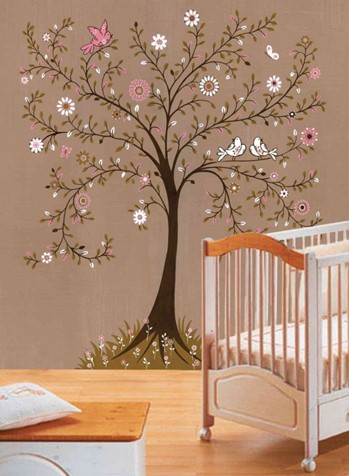 Pictured: Tree of Life (brown)
If you're looking for something a little less exuberant that still adds beauty and charm to your child's room, you can opt for a simpler nursery wallpaper mural like this one. The tree's delicately flowering branches symbolize life and growth, providing a perfect backdrop to watch your little one grow!
Colourful patchwork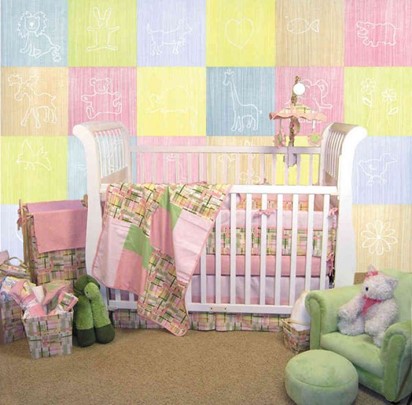 If you want something that more closely resembles wallpaper, you might like this adorable mural. Each colourful square looks pleasantly textured and contains a minimalist outline of a different plant or animal. Combine this wallpaper mural for children with other quilt motifs to create nursery décor that's truly delightful!
Inspire them early!
Arts and crafts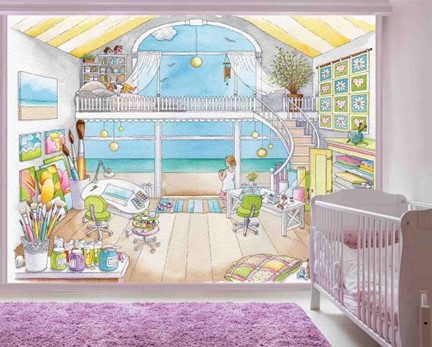 Pictured: Mia's Workshop
Are you an artist, needleworker or knitter who wants to pass on your passion to your little one? Inspire them early with this nursery mural depicting an arts and crafts paradise. Familiarize your child with canvas, thread and paintbrushes, and give them the gift of knowing that it's important to make time in life for things that bring you joy.
Pet paradise
Are your pets an integral part of your family? Do you want to provide your child with all of the unconditional love and comfort furry companions have to give? Start your little animal lover off on the right foot with this cute mural full of cuddly critters.
Yoga and meditation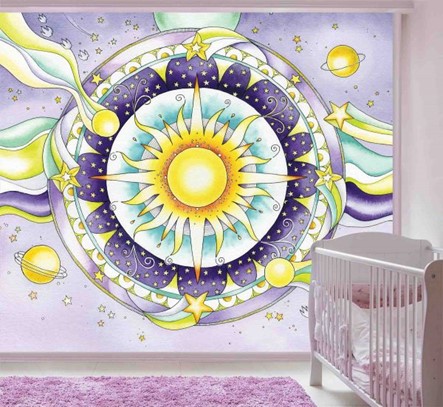 The mandala features heavily in many eastern spiritual traditions as a visual aid to encourage introspection and peace of mind. If you are a yoga, meditation and eastern spirituality enthusiast who wants to bring an element of Zen to your baby's nursery, this mesmerizing, starry mandala might be just right!
Travel and culture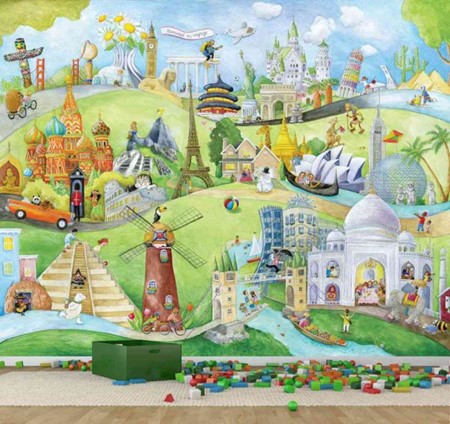 Pictured: Leonard on Holiday
If you love to travel and want to introduce your baby to the rich and varied cultures of the world, why not start with this vibrant mural that depicts famous landmarks from across the globe? It's a great way to inspire curiosity and open-mindedness and show your new arrival the wonders of the world!
The advantages of using wall murals for a nursery
Muralunique's wallpaper murals are washable and easy to install. Unlike other artwork, they can be placed on the wall right against the crib without any fear of picture frames or other heavy items falling onto the child. They are also removable and reusable, meaning that they can be replaced or updated with more age-appropriate murals as the child gets older.
Muralunique murals are made of wood pulp and polyester fibre. They contain no plastic and come pre-pasted with a water-based, odourless glue, making them eco-friendly and biodegradable. Due to their composition and finish, they are able to absorb and release moisture and are therefore resistant to mildew and bacteria. They are also fire resistant. All of these characteristics make them completely safe for infants and children.
Decorate your nursery with a wallpaper mural from Muralunique!
Muralunique is Canada's leading provider of wallpaper murals. We offer free shipping across the world, wherever Canada Post delivers. In addition to the vast range of wallpaper murals we have available, we also provide a service for creating your very own custom mural. The options are endless! Visit our online store or contact us today to find out more about our products.