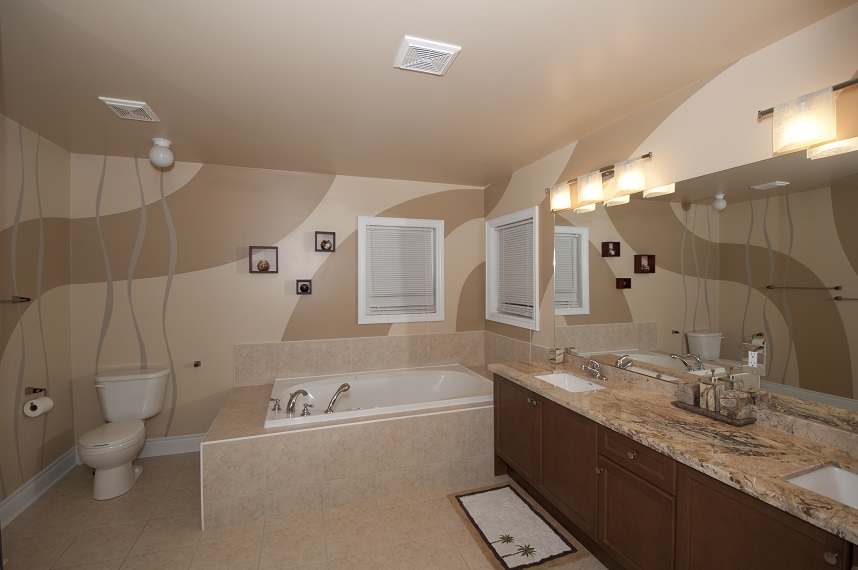 Bathrooms are often neglected when it comes to décor. They are generally dismissed as purely utilitarian and tend to be overlooked in favour of the rooms where we entertain, sleep and spend most of our time. The high humidity level in bathrooms can make decorating them a challenge, so many people elect to just keep things simple.
You may not think much about the time you spend in the bathroom, but the truth is that it's an essential part of our daily lives. So why make it a sterile, uninteresting space when you could create your very own little spa-like oasis?
Wallpaper murals are a simple, inexpensive way to revitalize your bathroom. That being said, it's important to select a good-quality mural in a material that's made to withstand the challenging conditions in a bathroom. Read on to find out which types of wallpaper murals are best for bathroom use!
Can wallpaper murals withstand the moisture in a bathroom?
If you've ever had a long, hot shower and come out to find your mirror completely fogged up, you'll know just how much moisture can get trapped in the bathroom. In a poorly ventilated bathroom, humidity can cling to the walls and surfaces for hours or even days after. That means that any décor you choose needs to be resistant to moisture and the mould and mildew that can accompany it.
Ventilation can go a long way towards mitigating the moisture in your bathroom. Most modern bathrooms are equipped with an exhaust fan that can vent the hot, humid air to the outside. It's important to remember to turn the fan on whenever you're taking a shower. If you have a working window in your bathroom, you can also crack it open to ventilate the room. Finally, try leaving the bathroom door open during and/or after your shower to help the moisture dissipate.
If your bathroom is generally well-ventilated, you can feel free to place wallpaper murals on as many of the walls as you like (except inside the shower)! If not, you can still enjoy a beautiful wallpaper mural—you might just need to stick to one wall.
Which material is best for bathroom wallpaper?
Traditional cellulose-based wallpaper isn't designed to withstand the amount of moisture generated by showers, baths and other bathroom fixtures. Over time, the humidity can seep through, weakening the adhesive and causing the paper to curl. Moisture can also get trapped behind traditional wallpaper, creating an ideal environment for mould growth.
Vinyl
Vinyl is the most commonly recommended material for bathroom wallpaper murals, because it is water-resistant and can be wiped down easily. However, the adhesive used for vinyl wallpaper murals becomes permanent after a year. That means that it can't be reused and will damage the wall if you try to take it off.
Vinyl's durability becomes a liability when it comes to disposal. Vinyl is nearly impossible to recycle and is not biodegradable, meaning that it will end up sitting in a landfill for years after it has outlived its usefulness.
Reinforced paper
Muralunique's wallpaper base is made of wood pulp reinforced with polyester fibre for added strength and durability. It's as robust as any vinyl of similar thickness on the market, but doesn't contain any plastic, making it biodegradable and eco-friendly. Our wallpaper murals are designed to be removed and reused easily, which further reduces waste and protects the integrity of your bathroom walls.
Unlike traditional wallpaper, Muralunique's murals are washable with mild soap. They also absorb and release moisture, which makes them resistant to mould, mildew and bacteria. These features make them great options for bathroom use.
Ideas and options for bathroom wallpaper murals
Muralunique murals can be used anywhere in the bathroom except inside the shower. They are moisture-resistant enough to withstand splash-prone areas like the bathtub and sink.
Like the idea of using wall decor murals to beautify your bathroom, but need a little inspiration? Check out a few of our designs below.
Water and beaches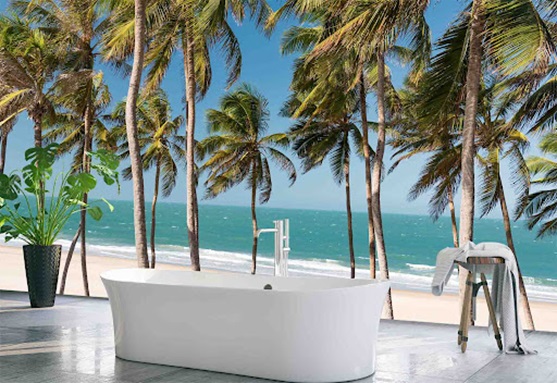 Seasonal blues getting you down? If you can't make it down south this year, why not bring a bit of the beach to you with one of our exotic ocean wallpaper murals? Pour yourself a piña colada, relax, and enjoy your very own little slice of paradise!
Floral and foliage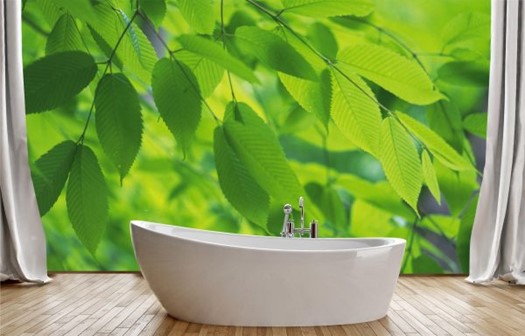 Feeling stressed these days? Plant life and the colour green have been shown to help create a calming environment. With our flowers and foliage wallpaper murals , you can create an oasis of greenery in the middle of the city to help you decompress.
Nature and landscapes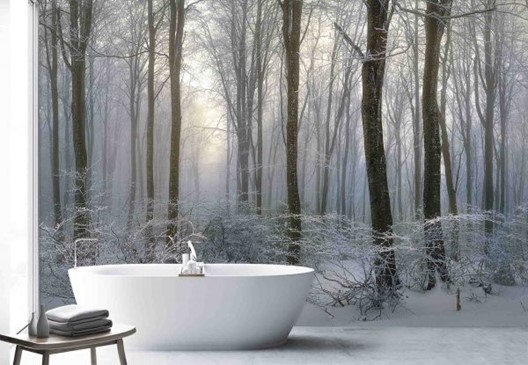 No need to travel to a Nordic spa or a rustic cabin in the forest when our landscape wallpaper murals can bring the peace and tranquility of nature right into your home! We use images up to 1,500 megapixels and laser print them for a realistic, immersive experience.
Upgrade your bathroom décor with Muralunique
Wallpaper murals are a fun, versatile way to infuse some of your personality into your bathroom. They are quite cost-effective compared to other types of bathroom wall coverings, and the results can be truly stunning. As long as you have good ventilation and invest in a high-quality, moisture-resistant mural, there's no reason why you can't place it in your bathroom and enjoy it for years to come!
Muralunique's durable, mildew-resistant wallpaper murals are perfect for bathroom use. Washable, reusable, and available in a wide variety of styles, these eco-friendly murals can be purchased online and delivered right to your door. Just follow our step-by-step installation instructions or hire our professional installation service, available in cities and regions across Canada. Personalize your bathroom today!