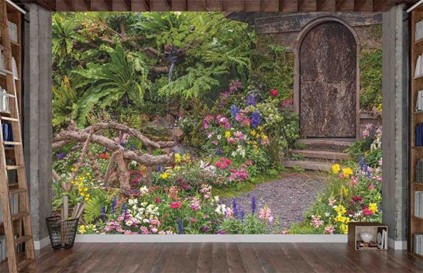 Cottagecore is an aesthetic that idealizes rural life and expresses nostalgia for a simpler time. It incorporates lifestyle choices and activities that are sustainable and more in tune with nature. Popularized among the younger generations on social media platforms such as Tumblr, Instagram and TikTok, the trend pushes back against the intense industrialization and capitalism of the modern day.
In some ways, cottagecore echoes Victorian Romanticism, a movement of artists, poets and intellectuals who yearned for a return to rustic life against the backdrop of the Industrial Revolution.
If you find yourself drawn to cottagecore, why not integrate it into your décor? Read on for examples of beautiful wallpaper murals you can use to give your home a warm, timeless feel.
Florals and foliage
Roses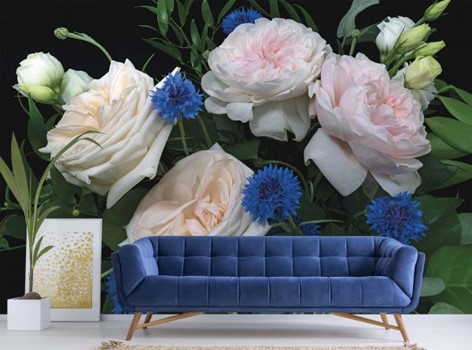 Pictured: Bouquet of Roses
Florals and foliage are quintessential aspects of cottagecore. The aesthetic emphasizes the beauty of nature and involves everything from gardens and bouquets of fresh roses to pressed wildflowers and daisy chains. Bring cottagecore into your home with this beautifully-detailed, blush-pink bouquet.
Floral print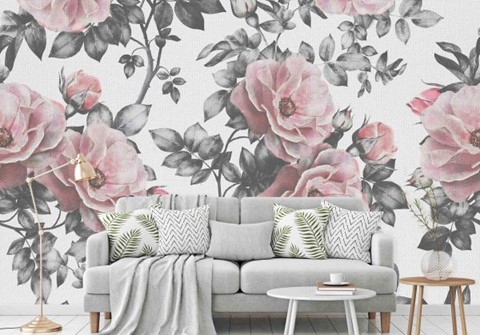 Pictured: Pink Flowers with Canvas Texture
As its name suggests, cottagecore includes aesthetic features you would expect to find in a cottage. This includes plenty of woodwork, plaid, lace and lovely floral patterns like the one in the wallpaper mural pictured above.
Rustic landscapes
The English countryside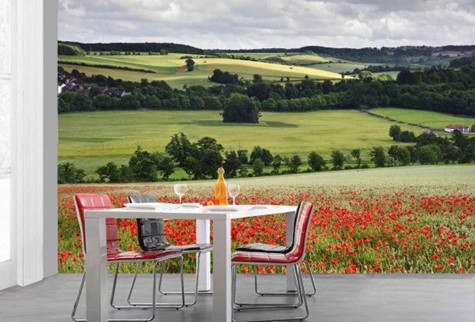 Pictured: English Countryside
Cottagecore takes its inspiration from the idyllic English countryside, with its rolling green hills, quaint cottages and fields of flowers. If you want to bring the tranquility of rural Britain into your home, why not opt for stunning nature and landscape murals like this one?
A country lane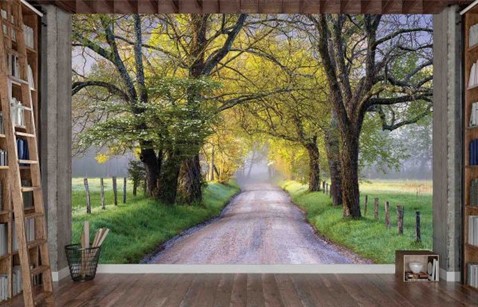 Pictured: Country Road
Cottagecore stems in part from a desire to escape the hectic nature of modern life, with its technology, commercialism and deadlines. With this wall art, you can imagine yourself climbing into a horse-drawn carriage and travelling back to a simpler time along this picturesque country lane. The trompe l'oeil mural creates a depth effect that will make any room you place it in feel more spacious.
Farmland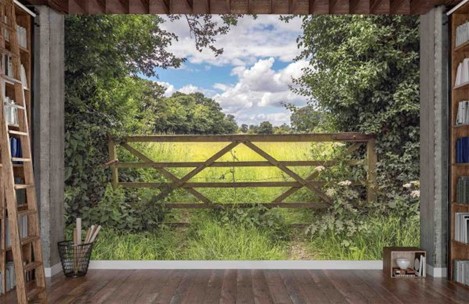 Pictured: Country Fence
Cottagecore is also sometimes called farmcore. It romanticizes the agricultural lifestyle, and popular activities include cultivating plants and raising livestock. This pastoral scene of an overgrown paddock fence is a perfect mural for anyone looking to infuse an agricultural aesthetic into their home.
Other aspects of cottagecore
Animals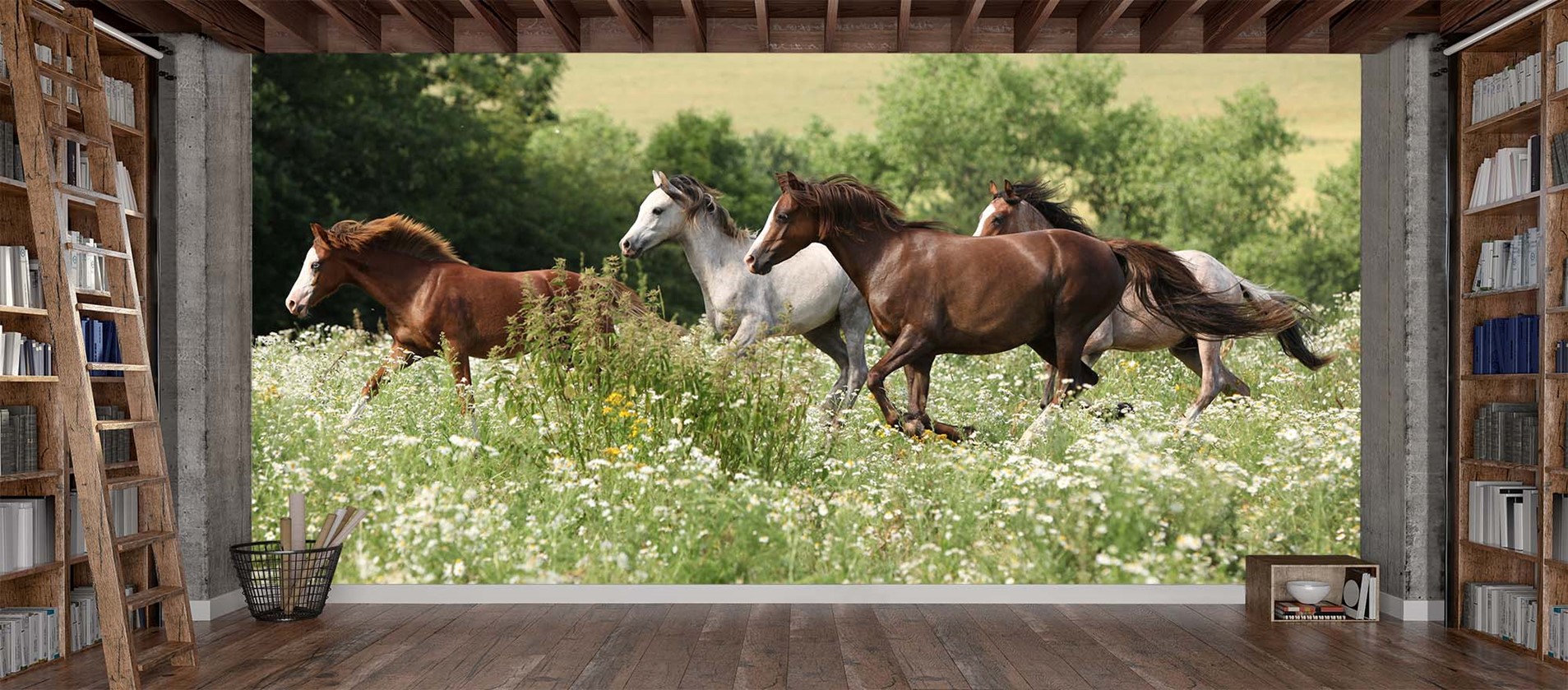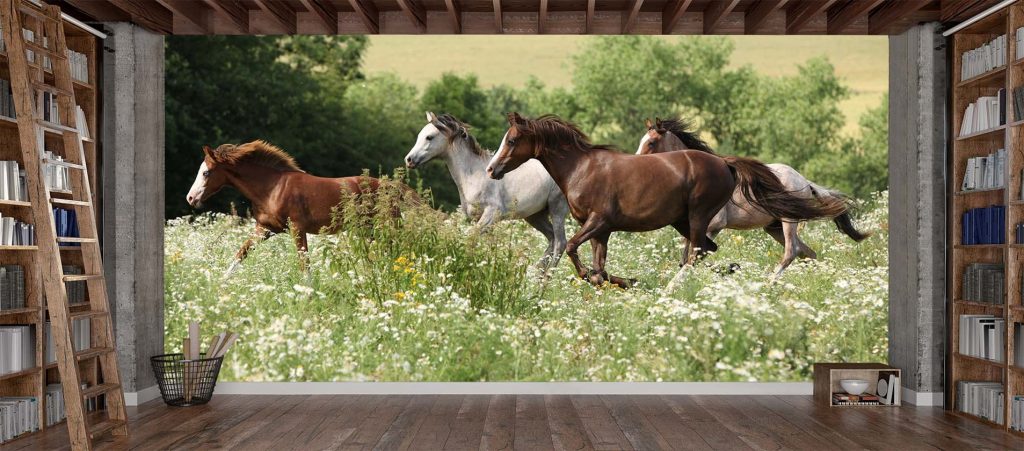 Picture: Herd of Running Horses
As an integral aspect of nature and farming, animals are also part of the cottagecore aesthetic. The creatures depicted in cottagecore imagery are usually either domesticated, such as cats, sheep and horses, or animals that are commonly found in fields and forests, such as butterflies and mice.
If you love animals, consider putting up this free-spirited mural of horses cantering through a fragrant meadow.
Timber panels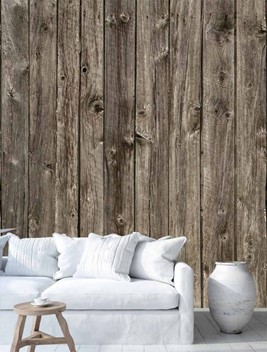 Pictured: Barn Wall
Do you sometimes find yourself wishing you lived in a log cabin in the woods? Recreate that rustic aesthetic easily with a pre-pasted wallpaper mural that imitates the rugged, natural look of rough-hewn timber panels. The highly-realistic image faithfully replicates every knot and whorl in the wood for a little slice of country life in the middle of the city!
Food and drink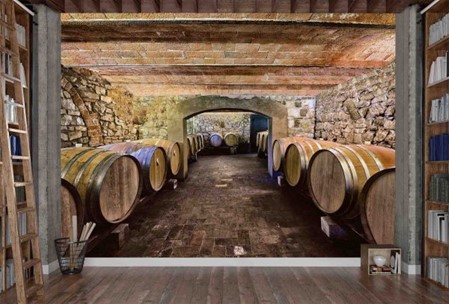 Pictured: Wine Cellar Chianti Region
Cottagecore includes activities such as baking your own bread and brewing homemade alcohol. Making food and drink from scratch became particularly popular during the pandemic, when many people were stuck in lockdown with more time on their hands.
If you are less passionate about images of nature but still want to give your home that signature rustic feel, why not opt for this old-fashioned wine cellar wallpaper mural?
Inspiration from books and movies
Harry Potter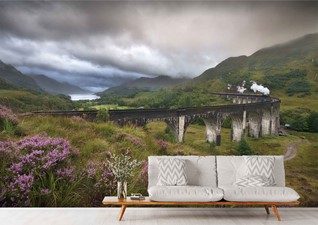 Pictured: Glenfinnan Viaduct, Scotland
This mural depicts the Glenfinnan Viaduct in Scotland, which was featured in several of the Harry Potter movies. Harry Potter may not be cottagecore, but the trend has some of the same qualities of idealism and escapism as the fantasy genre. So hop on the Hogwarts Express and leave the chaos of the modern day behind with this gorgeous image of the stormy Scottish Highlands!
The Secret Garden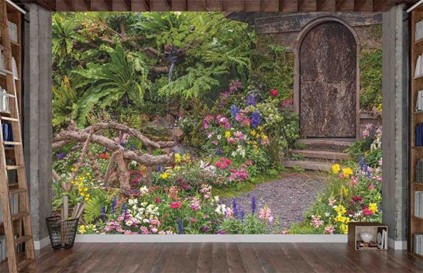 Pictured: Rustic Garden
The Secret Garden is a novel about a troubled young girl who finds solace and new life in a walled garden at her uncle's manor in the English countryside. Its themes of rejuvenation in nature and appreciation of the simpler things in life are echoed in cottagecore. Give your home its very own secret garden with this lovely wallpaper mural.
Cottagecore wall art from Muralunique
Cottagecore is an aesthetic that hearkens back to a simpler time. The idealized depiction of rural life expresses a deep-seated desire for a closer connection to nature and a rejection of the trappings of modern mass-consumerism.
If you want to integrate the cottagecore aesthetic into your home, Muralunique offers a wide selection of stunning, highly-realistic wallpaper murals. Our murals are made of polyester and wood pulp sourced from eco-responsible culture. They are plastic-free and pre-pasted with a water-based glue, making them eco-friendly and biodegradable. They can also be easily removed and reused without damaging the walls.
Visit our online store today to pick out your very own wallpaper mural, or contact us for more information. Our customer service representatives will be happy to assist you.