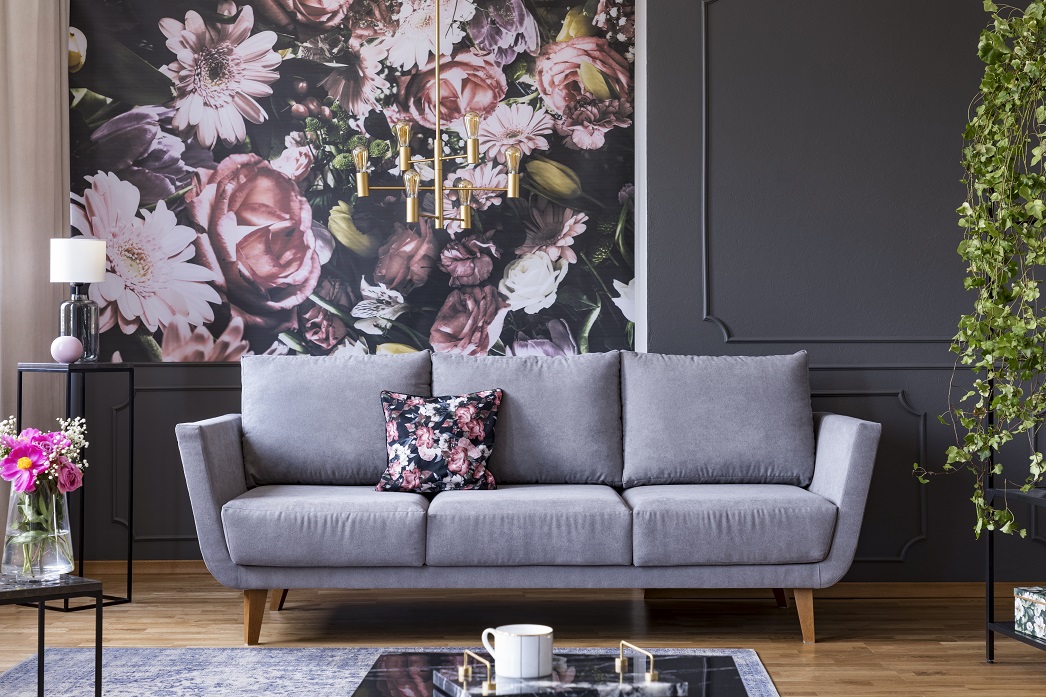 Wallpaper and paint can add a pop of colour, freshness and style to any of your rooms.
Choosing one over the other is hard, as they are both excellent options.
The article will cover different factors to consider when making your choice, as well as the pros and cons of choosing between wallpaper and paint.
Wallpaper or paint: factors to consider
You should consider certain factors when designing your interior that can help you choose between wallpaper or paint for your wall covering.
Preparation
The time required for a wall preparation is critical when you decide to paint or wallpaper it. When walls are bare, without any finish on them, preparation will be much quicker.
On a wall already painted or wallpapered, the application of wallpaper or paint requires preparation. Removing the existing wallpaper can be time-consuming, but will make the job easier later on.
In case of imperfections on the wall, the application of a primer creates an even and adherent surface. Please note that latex primer is not suitable for wallpapers. There are several options available to you:
Apply a coat of latex primer followed by a coat of semi-gloss latex. Dry time is 21 days.
Apply a coat of latex primer followed by a coat of oil-based primer and dry for 3 days. Make sure not to use odorless primers.
If you are short of time, apply one coat of Zinsser BIN Shellac Sealer to dry for one hour.
How hard it is to apply
Most people think that wallpaper takes a longer time to install compared to paint. But they ignore the fact that paint usually requires more than one coat to be applied for proper results.
In reality, the application of wallpaper or paint takes about the same amount of time. The main difference is the difficulty of installation. Hire professionals for a perfect installation.
Choice, life span and environmental footprint
When it comes to painting, the choices are nearly endless. You can choose paint of any colour or shade. This makes it an ideal choice for anyone who wants plain, glossy or matte walls.
But it's hard to be unique and creative with paint. Wallpaper textures and patterns not only add a designer touch to your interior but also create a new atmosphere in a room.
The life span of wallpaper or paint generally depends on the room you wish to decorate. The installation of wallpaper in a kitchen or a bathroom is perfectly possible if it is well chosen. For example, vinyl, non-woven, or expanded wallpapers are best for humidity-prone rooms.
Damaged walls are difficult to paint and the paint may peel off quickly after a while. Other than that, paint and wallpaper are durable, lasting for up to 10 years or even 15 years for some wallpapers.
It is also difficult to compare the ecological footprint of wallpaper and paint. There is no predefined standard on environmental impact. Each wallpaper and paint is unique and comes with a label that indicates its environmental footprint.
Price
The starting prices across these two materials give the favor to paint. It generally costs less than wallpaper, but the price can go up easily depending on the type, finish, and brand you choose. Brushes, paint trays, rollers, and other floor and furniture protection costs present an additional expense that can add up significantly to the final price.
Basic wallpaper is more expensive. But wallpaper lasts longer – which reduces the cost of future investments.
The advantages of wallpaper or paint
You can make your choice by assessing the specific characteristics of wallpaper and paint. Let's see their main advantages and disadvantages.
Wallpaper advantages:
Can be custom-made
Quick and easy installation
Long-lasting
Masks wall imperfections
Little or no waste of material
Muralunique's wallpaper murals stand out for their paper quality, produced from eco-friendly crops from Northern Europe's boreal forests. Made from a mixture of fine wood pulp and polyester fibre for increased resistance, our wallpaper murals do not contain any plastic material. This makes them not only eco-friendly but also biodegradable.
Paint advantages:
Wide choice of colors and shades
All-surface application (walls and furniture)
The finish adapts to any room of the house (matte, satin, velvety)
Wall protection and sanitation
Easy-color change
The disadvantages of wallpaper or paint
Wallpaper drawbacks:
More expensive than paint
Requires special attention when it comes to damp rooms
Paint drawbacks:
Requires patience and attention to details and finishing touches to achieve a good result
Requires extensive wall preparation
Multiple coats are required (from 2 to 4) depending on the color chosen for an aesthetic result
Long drying time
Wallpaper or paint: Choose Muralunique for expert advice
Choosing between wallpaper or paint depends mainly on your budget, room type, and your preferences. By evaluating the pros and cons of each, you decide on the best wall covering for your space.
You can also think about choosing custom wallpaper murals instead of traditional wallpaper. This ensures that you choose a high-quality, durable and environmentally friendly product. Our wallpaper mural experts are available to answer all your questions and help you with your project. Contact us today to discuss your wall decor projects.