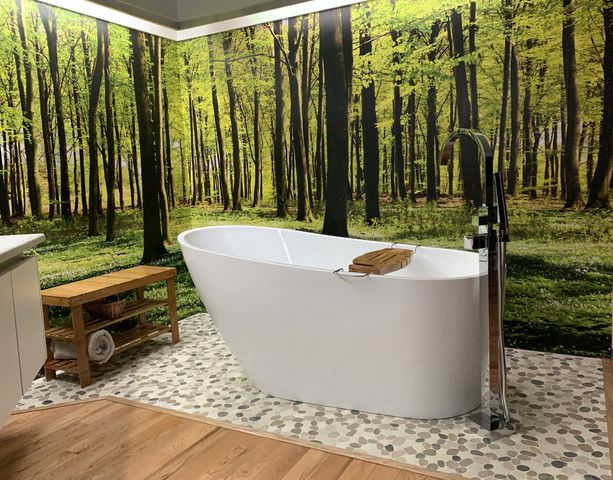 Do you want to change the colours of your walls? While painting often comes to mind first, wallpaper also provides beautiful results, in addition to offering many advantages.
Here are 10 things you should know about wallpaper murals to illustrate the various advantages that set them apart from paint. From installation to maintenance and choice, the benefits of wallpaper murals often make them the perfect option to redecorate any room quickly and affordably.
A wide variety of printed images: one of the main advantages of wallpaper murals
Painting is very limited in what you can do in terms of decoration: only colours are available. With wallpaper murals, you have a wide selection of patterns, textures and images to choose from and the possibilities are virtually limitless!
Easy to install, just as easy to take off
All our wallpaper murals are prepasted, which means that they are very easy to install, even if you have never worked with a mural in your life. If you are not convinced that you can do it by yourself, you can always use our installation services. If after a few years you decide to redecorate the room, rest assured: our murals are just as easy to remove!
Customization, another unique feature of wallpaper murals
Wallpaper murals offer you the freedom to decorate your walls with any image of your choice. Whether you want to transform a photo into wallpaper, or convert a work of art of your choice, we only need the dimensions of your room to offer you a custom mural.
Wallpaper murals can hide the small defects on your walls
Do your walls have small noticeable flaws? Paint won't make them disappear, but wallpaper will! Small holes, scratches and other imperfections can easily be covered by a mural.
With wallpaper murals, no drying time is required!
Depending on room temperature and humidity, drying time can vary between 1 and 8 hours, which can become very tedious if you have to apply several coats. With murals, no drying time is necessary: as soon as it is installed, you can rearrange the room and start enjoying it normally again.
Wallpaper murals are easy to maintain
Washing a wallpaper mural is very simple: just wipe the surface with a damp cloth or sponge and you're done! For stubborn stains, you can use a little soapy water.
A decorative element that adds character to your room
Wallpaper murals can enhance your room's decoration more intensely than paint. For example, if you want a rustic look, certain colours can be used, but a mural that imitates a brick wall will have a much stronger effect.
Contact Muralunique to enjoy the advantages of a wallpaper mural
You have ultimately decided to go for a wallpaper mural? If so, we invite you to browse through our large selection of murals, or contact us if you would like a custom-made mural. In either case, we will be happy to serve you!