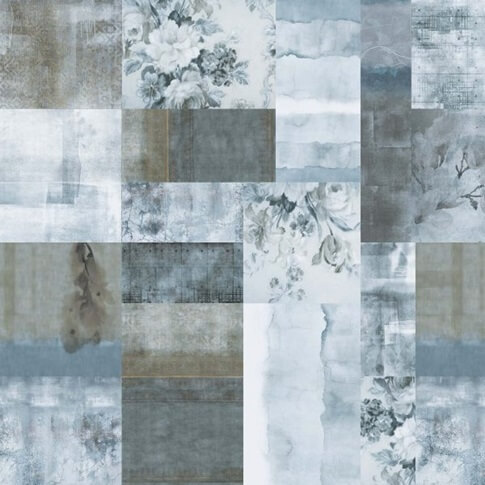 A bathroom wall mural should set the mood to relax and refresh. It's the perfect opportunity to give attention to a colour you love!
While paint or wallpaper can create an accent, a wall mural brings variety, texture and even depth to a small room. In fact, your bathroom is the ideal place to focus on a hue that will never grow dull.
Any one of these wall murals will make you feel great every time you close the door and embrace your own space!
Blue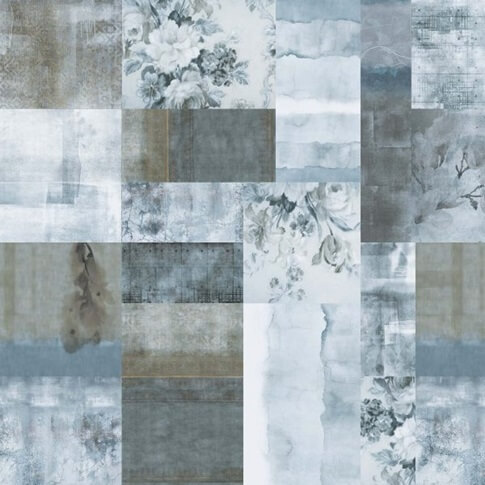 Pictured: Geometric and Floral Collage in Blue
Blue may be the single most popular colour choice of all time for bathrooms, due to its nautical and watery connotations. While a bathroom wall mural featuring the brilliant blue of a real waterfall can make a splash, remember that this tone can be just as soothing when featured in a marble pattern or a cottagecore style floral mural.
White
Pictured: White 3D Cubes
A bathroom wall mural featuring an original optical illusion is the perfect way to add space to a tiny room without a view. By choosing a white block pattern, you can trick your eye into enjoying three dimensions without the fuss of cleaning the tiny ridges and shapes of real tile.
Or, if you prefer the organic shapes of a natural landscape, the wintery white of a frozen landscape offers a refreshing distraction that will cool you down in summer and remind you to appreciate the comforts of modern plumbing in winter!
Sepia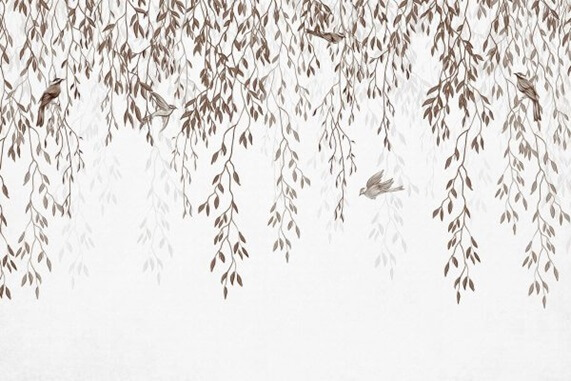 Pictured: Willow Tree Branches in Sepia
Your bathroom can be a place to savour the soft tones of yesterday. While some designers relish the bright candy colours of the 1950's, others recall the muted earth tones that came first. Sepia says old-fashioned, in the best sense. Coupled with modern accessories, a sepia bathroom wall mural featuring artistic foliage will surely stand the test of time.
Green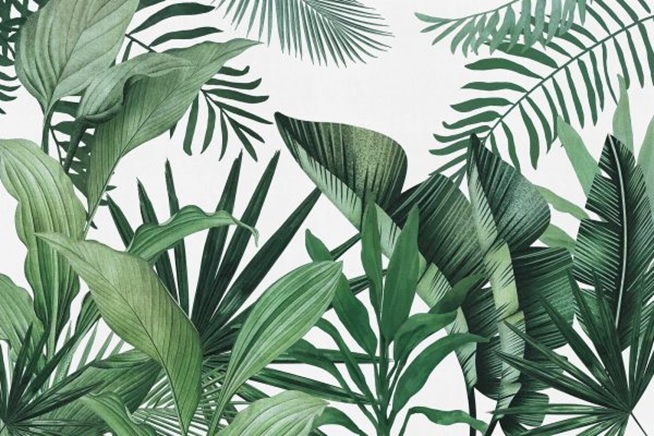 Pictured: Green Tropical Leaves on White Background (Canvas Texture)
Green is always fresh! If you value the environment and want to make an eco-friendly statement, there's nothing better than a bathroom wall mural boasting a forest view. Fresh green leaves revitalize and awaken. Whether you choose a wall mural of a canopy of green leaves, or a drawing of a tropical jungle, a green bathroom wall mural will bring you as close to nature as possible – without any mosquitoes!
Gold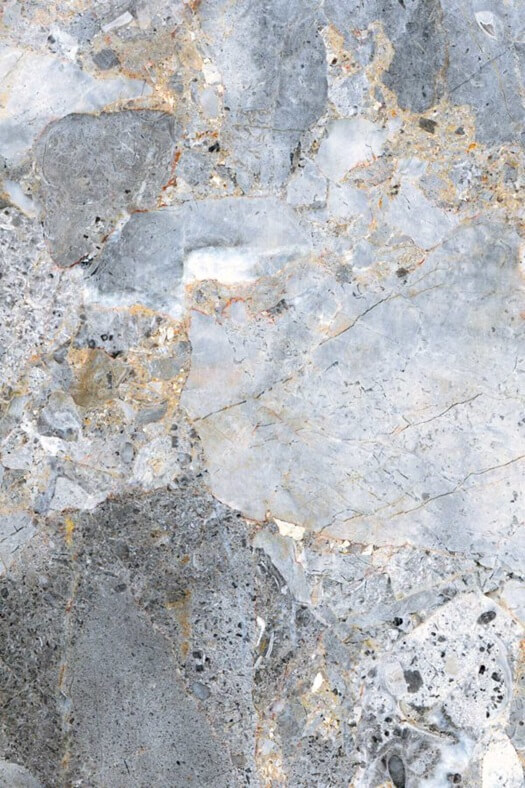 Pictured: Marbled Effect
Gold is a definite accent colour, perfect for fixtures like faucet handles and towel racks. If you believe just a touch of glimmer is enough, the delicate sparkle of gold-infused marble will be the perfect choice to take your bathroom to the next level. If, however, you want to make the whole room shine, a full bathroom wall mural in glamourous gold is sure to have a lasting impact.
Ochre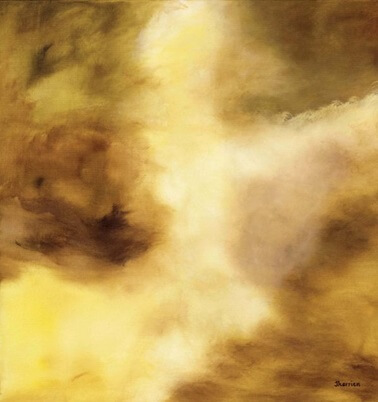 Pictured: The Spectrum of the Nile
Sometimes a darker tone can be the perfect contrast to clean white towels and shining metal fixtures. Go ahead and bring the sandy warmth of ochre into your bathroom with an abstract bathroom wall mural. Dreamy clouds of colour will take you away from the pressures of pristine perfection, and lend a touch of the exotic to your special space.
Grey
Pictured: Flowers on Concrete
If you're looking to refine your bathroom's look with a more subtle statement, grey is the colour to crush on. Hazy grey patterns are a welcome and tasteful surprise. Go ahead and choose a bathroom wall mural that features muted designs such as flowers on concrete or aged damask. Paired with black or silver fixtures, grey also permits you to change your mind on a whim when it comes to towel and carpet colours. This shade is easy to live with.
Make your bathroom beautiful with a wall mural from Muralunique!
Now is the time to install a bathroom wall mural that makes your personal taste a priority! Whether you prefer the clean, cool effect of balmy blues and wintry whites, or you have a soft spot for glittery gold and grassy green, you're sure to find a wall mural that will take your bathroom to the next level at Muralunique!
Browse all of our murals today to find the perfect mural for your home.