Pink wall murals can be happy and bright, or dazzling and elegant. Traditionally associated with nurseries or pale monochrome interiors, pink is finding a new place in interior design as the vibrant, chic friend you've missed all these years. You've never been happier to see this cheerful hue when you walk through the door to your favourite room!
Join us as we explore six ways to use pink wall murals to make a unique interior that remains faithful no matter how much you change.
Fabulously feminine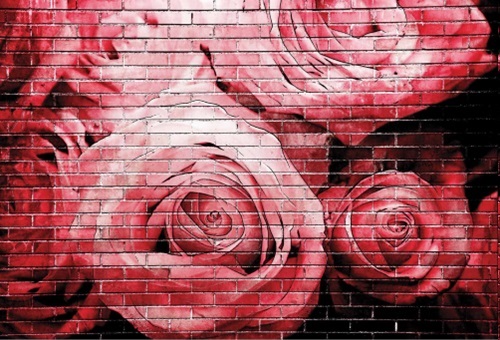 Pictured: Painted Roses on a Brick Wall
A bold pink wall mural makes a strong and assertive statement. Paired with sooty black, and complemented with metallic furniture and accessories, an edgy pink wall mural will create a daring feminine interior that will feel like a world of its own.
Give this colour the attention it deserves, and the strength of powerful pink will surely inspire you as it envelops your mind in a mesmerizing alternate reality.
Vibrant & vigourous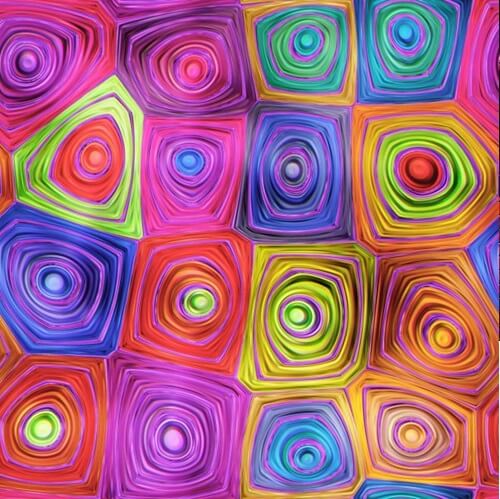 Pictured: Hypnosis
If fiery fun is your idea of the perfect indoor mood, look no further than hot pink wall murals that incorporate the psychedelic hues of the 60s and 70s. Paired with mellow yellow and ochre orange, a bright pink wall mural adds a groovy vibe to any interior that lets your imagination run wild.
Vibrant pink is all about stimulation, and if you work from home, this colour might be just the thing to keep you going all day.
Naturally naughty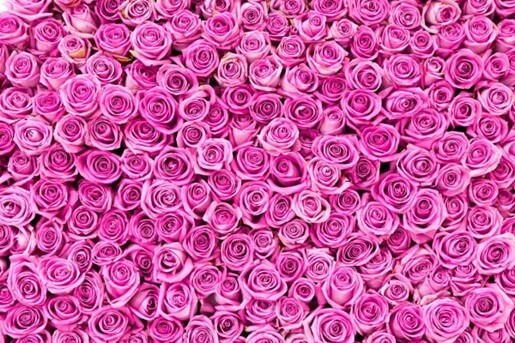 Pictured: Pink Roses
Monochrome is hot in fashion this year, so why not take a hint and make a similar statement in your home? If you feel that going all pink is the only way to truly appreciate this vibrant colour, look no further than a full pink wall mural. While paler pink from floor to ceiling will create a soft – albeit stunning – interior, brighter natural pinks will give your room pizzazz.
Roses and other lively pink flowers are perfect if your personality is drawn to love and wonder. Smaller spaces like bathrooms are especially suited to a flashy, uniform look.
Feathery fun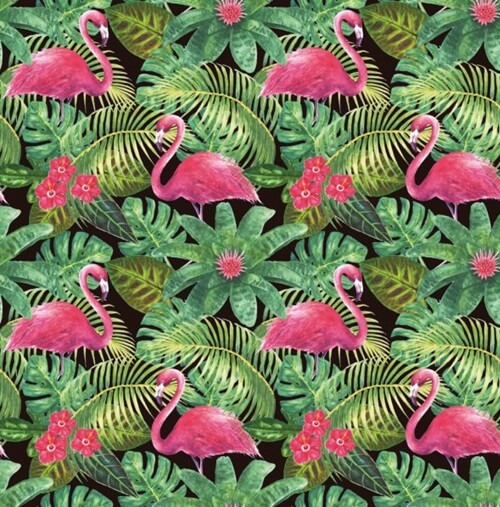 Pictured: Pink Flamingos
Some designers claim that you can create the same effect whether you use a lot of pink or just a little. If you are afraid of introducing too much of this jaunty colour to your space, remember that it pairs well with other hues. In fact, there are so many colours that go with pink, you really can't go wrong.
Take a cue from the natural world, where pink birds and animals are in perfect harmony with their surroundings. Pair a peppy pink with forest green for moody warmth, and your room will feel balanced and complete.
Cheerfully contemporary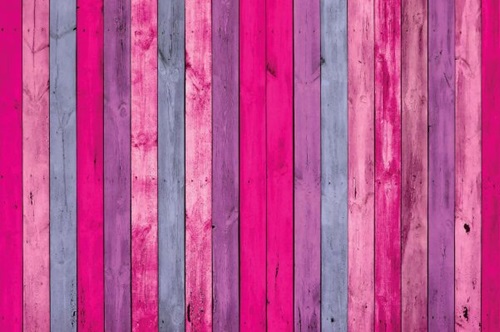 Pictured: Wall of Pink Wood Planks
Bold and beautiful pink geometric designs can be a welcome surprise in a modern home. It's a mistake to think a modern space needs to be serious. In fact, the less adventurous, the more cold and impersonal your modern interior will be. Contemporary designers insist that modern design works better when you add a bit of fun, in the form of personal finds like items found while traveling, or deliberate choices like a pink wall mural.
Remember that colour is only one element of any decorative element, and a spunky hue can have a completely different effect when displayed within a sturdy, structured pattern.
Boho blossoms
Pictured: Wild Roses Painting
Boho interiors are trending again – in fact, this laid-back style has never completely disappeared since it first emerged in 19th century Paris, France. Associated with artists and thinkers who valued creative freedom over money, bohemian style boasts softer, worn hues and materials.
Does your ideal interior feature a well-loved bookcase or chair? A big, papery pink wall mural is the perfect way to soften a wall that is too cold and clean for a boho or cottagecore feel, and add elegance and glamour to a room that invites you to sit and stay awhile.
Find a perfect pink wall mural at Muralunique!
It's official: pink is perfect in a variety of settings, and the versatility of this colour goes only as far as the limits of your creative imagination. As long as you stay true to your decorating goals, and respect your personal preferences, there are an infinite number of ways to improve your home with a pink wall mural.
Browse pink wall murals of all sorts at Muralunique! Your next spectacular decorating find is just waiting to be discovered.